Removing graffiti using a high-pressure cleaner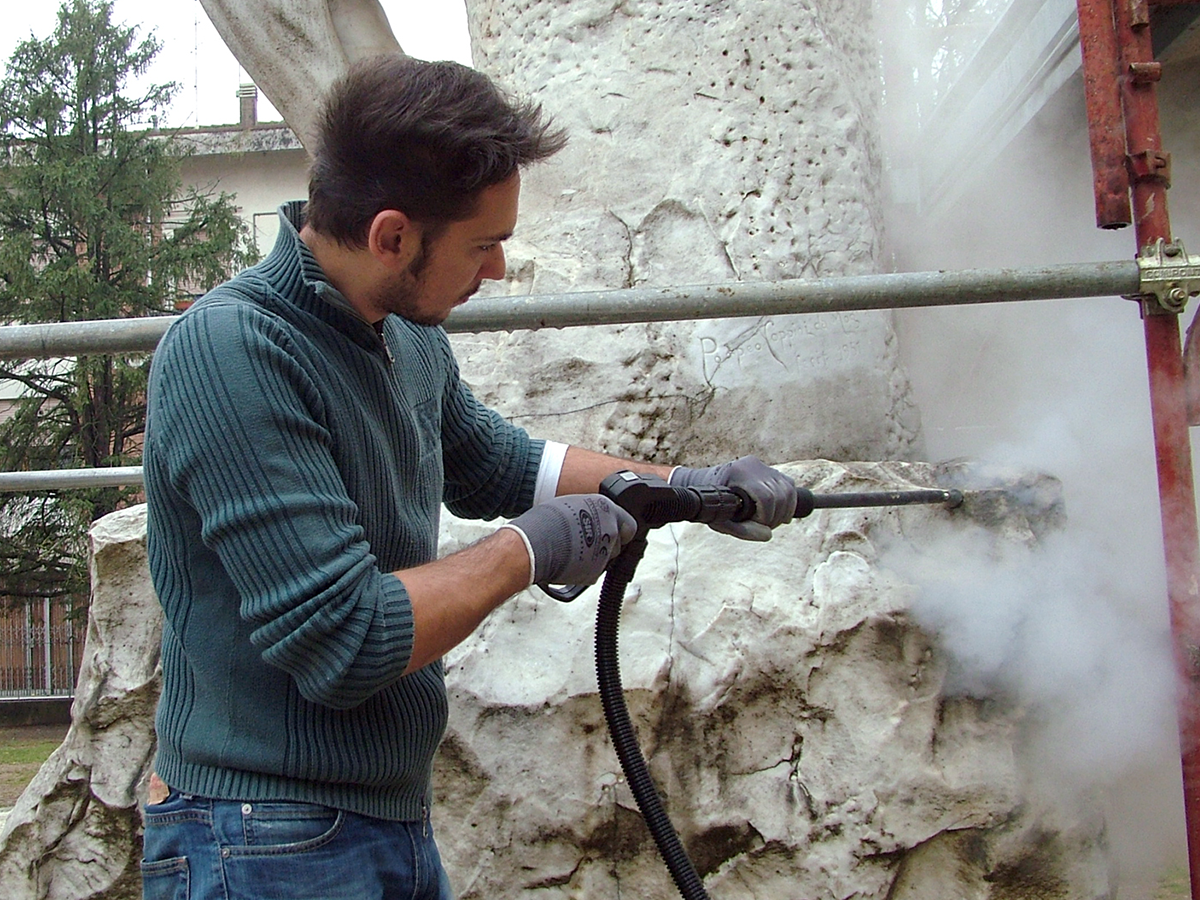 Recent years have seen an increase in the number of street artists. Buildings, shops, buses and surfaces of all types are used as canvases for writing or drawing using paints and sprays. While the phenomenon has
given birth to the emergence of street art, an influential artistic movement in pop culture, it is nonetheless a genuine act of vandalism. Cleaning these surfaces can prove to be particularly challenging for public authorities, who invest citizens' money in cleaning companies and contractors. By using professional high-pressure cleaners it is nonetheless possible to achieve great savings in terms of time and costs, while safeguarding all types of surfaces, even the most delicate ones.
Removing graffiti in a professional manner
It is very often the case that public authorities outsource graffiti removal to companies that are not highly skilled in the field. Markers, spray cans and paints are all too often found on buses or bus shelters, and also on monuments and buildings made of more vulnerable materials, such as stone and plaster. Using non-specific detergents, chemicals or abrasive tools risks damaging surfaces without actually removing the paint.
Removing graffiti using a high-pressure cleaner circumvents these issues, and saves time and money. Professional cleaning products include the following:
The feature a targeted, high-pressure jet.
They remove stubborn graffiti by combining hot water and detergents, respecting and safeguarding the quality of the surface that is being treated.
They use the sandblasting method, which optimises time and results.
In the first and second cases, graffiti removal using a professional high-pressure cleaner is made possible by a perfect combination of a high-pressure, precision water jet, which removes paint without damaging the surface. Sandblasting, on the other hand, is ideal for removing stubborn graffiti from delicate surfaces and can also be carried out using specialist, professional products such as steam generators.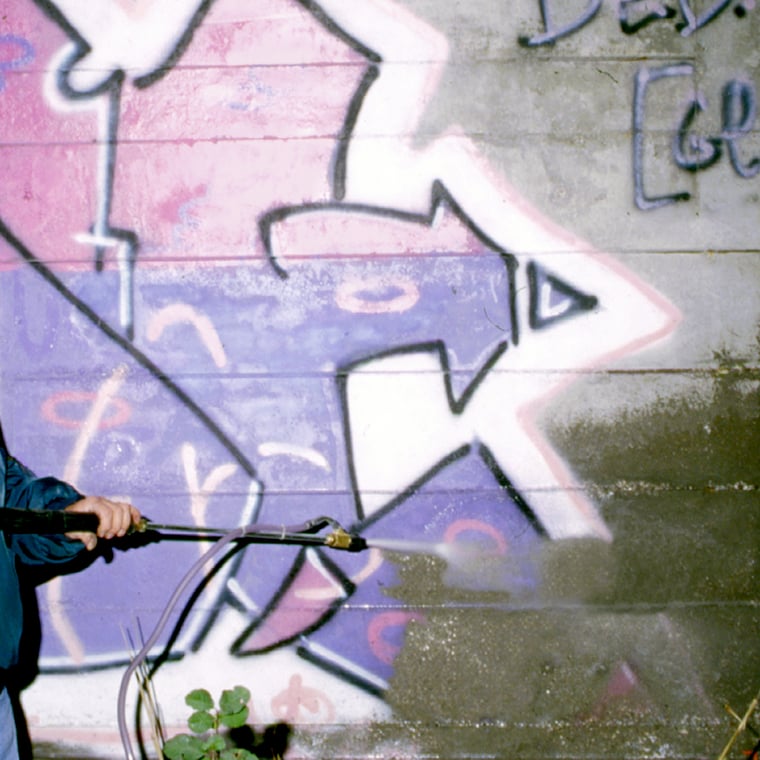 Removing graffiti using a high-pressure cleaner: the right choice
Using a professional high-pressure cleaner to remove graffiti is a wise investment, especially for a company or public authority in the long term. An effective product, manufactured using quality materials and equipped with a variety of accessories, allows the machine to be used frequently and for many years, with optimum performance and results.
Professional high-pressure cleaners are divided into the following categories:
Cold water high-pressure cleaners, ideal for removing dirt, of environmental origin for example. These are the ideal solution for removing moss and foliage from public parks, or mould from walls and plaster;
Hot water high-pressure cleaners are ideal for removing stubborn stains, especially greasy, oily ones.
If a solution for removing graffiti using a high-pressure cleaner is required, it is best to opt for hot water high-pressure cleaners. The temperature of the jet reaches 110°C and, owing to the combined action of pressure and heat, stains are removed with no damage to the underlying surface.
Opting for graffiti removal using professional high-pressure cleaners guarantees access to a versatile product that is ideal in a variety of different settings. A solution that is both targeted and adaptable, making it a worthwhile long-term investment.
Why remove graffiti with an HTR high-pressure cleaner?
Of the many Lavor high-pressure cleaners, an excellent solution for the removal of graffiti is the HTR model. A top-of-the-line high-pressure cleaner, that is practical and compact. The main features of this professional high-pressure cleaner include the following:
Pump with nickel-plated brass head, for greater durability and resistance to the chemicals used during cleaning.
Water-cooled motor, to lower the temperature of mechanical parts, ensuring greater reliability and durability.
Vertical, oil-fired boiler with steel coil.
22-litre tank for chemical substances.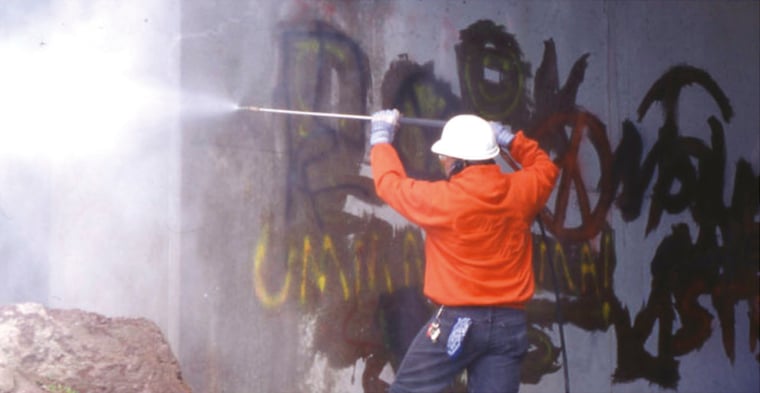 Graffiti and sandblasting: what does it involve?
The sandblasting technique originates in the painting of metals. To make the paint adhere more effectively, the metal is sprinkled with micro-particles which makes the surface rough and improves adhesion. Removing graffiti via sandblasting ensures the following:
Thoroughly cleans plastic, metal, masonry and wooden surfaces, removing smog, dirt or paint.
Saves time and money, a key concern especially when it comes to public authorities.
Protects surfaces, even those that are the most delicate.
Generally, the powders used in sandblasting in professional products are:
Silica sand, an ideal material for thorough cleaning, but aggressive on surfaces;
Bicarbonate of soda is ideal for delicate surfaces, while still achieving an excellent cleaning finish.
Together, sandblasting and high-pressure cleaner combine to create the hydro-sandblaster which, by combining the material used and the targeted, focused jet, restores public surfaces to their former glory, reaching the most inaccessible places with the aid of extensions and lances.
Removing graffiti by sandblasting: Graffiti Waster
Another excellent solution for the removal of graffiti using the sandblasting technique is the Lavor Graffiti Waster. A professional, specialist, all-in-one product, ideal for the removal of all types of paint, restoration of monuments and statues, removal of zebra crossings and sandblasting of walls.
The Graffiti Waster offers sustainability, practicality, compactness and cost savings. This Lavor item:
is 100% autonomous, as it does not need to be connected to a water supply, as it has an integrated water tank, nor does it need to be connected to the mains electricity supply, as it has a diesel-powered burner and an internal 75 Ah battery. It is designed to use very little water and guarantees excellent results.
it harnesses the combined effect of pressure and sand, acting rapidly and with no waste.
it is non-polluting and chemical-free. The user may refrain from wearing a mask during operation, as steam sandblasting does not produce dust. Moreover, the machine cleans, sanitises and leaves no residue.
it is simple, easy to handle and ready to use. It can be easily transported using the wheels.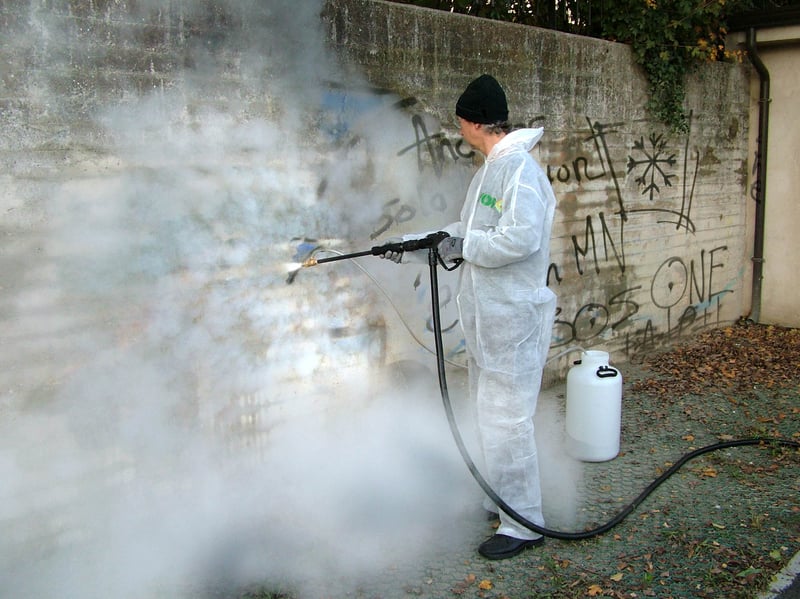 A long-term solution for removing graffiti
To combat acts of vandalism, it is essential to opt for prompt, targeted and effective solutions. Lavor lines are designed to meet the actual needs of companies, with complete, versatile and adaptable solutions, such as professional high-pressure cleaners, and highly specialised products such as the Graffiti Waster.
Whatever the company needs are, choosing a professional product ensures sustainability, speed and ease of use – essential requirements for an effective cleaning solution, and one that works in the long term.