Professional hygiene and cleaning for the food industry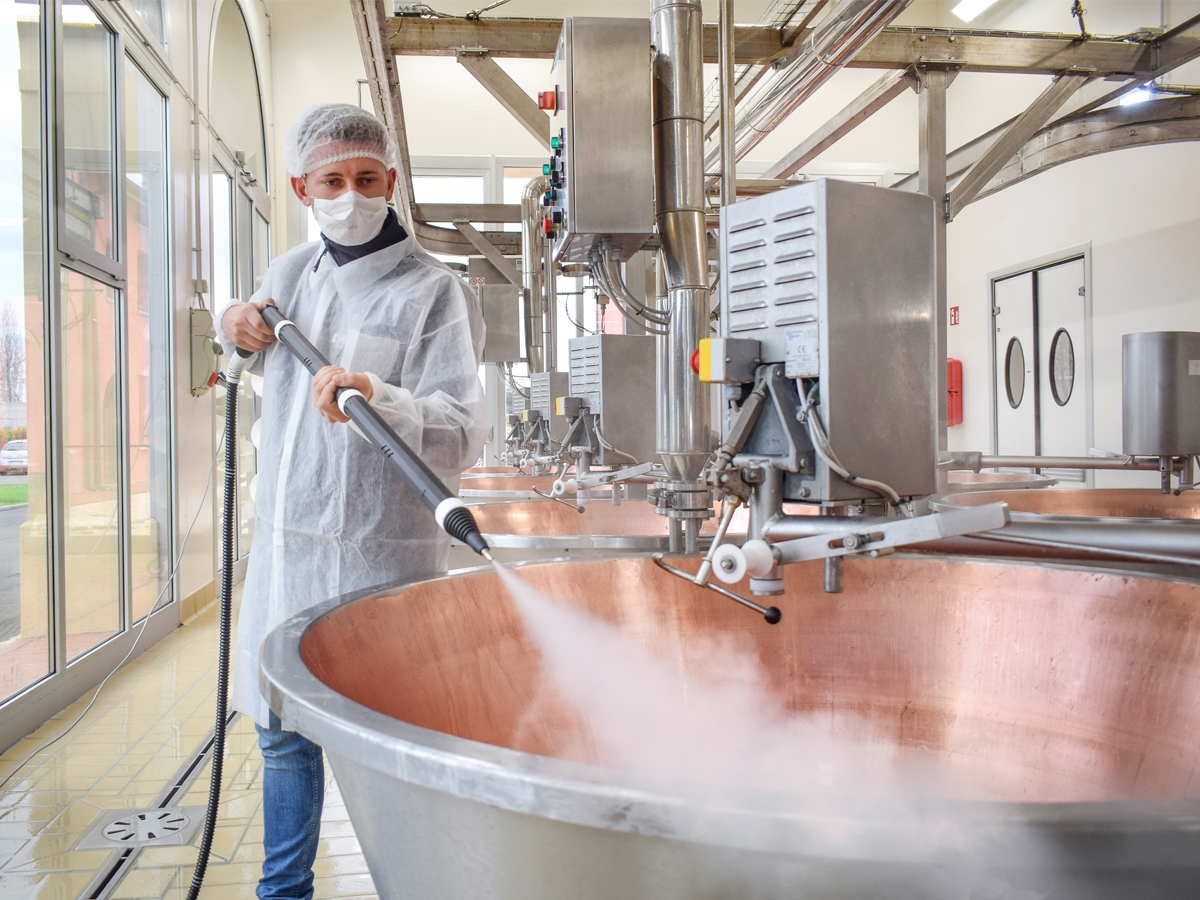 Cleaning, sanitization and disinfection are three essential aspects of cleanliness in food industries, which require thorough sanitization, even several times a day. The reason is twofold: in addition to the need to
keep high product quality standards, it is indeed important that these environments be well disinfected to avoid incurring into fines and penalties.
To keep a high level of cleanliness of surfaces and machinery, it is important to choose products designed for professional cleaning, such as high-pressure cleaners and steam generators, the real winning allies for food industries.
High-pressure cleaners and steam generators for the food industry
Whether we are talking about a small laboratory or a large, industry-leading plant, in food industries it is essential to keep impeccable cleanliness. Germs and bacteria proliferate quickly and to prevent them from contaminating the products processed in the industry, it is important to take prompt action to clean surfaces, floors and machinery. Milk, wine, fruits, meats, flour, grains and vegetables are in fact products particularly prone to contamination; especially in food industries specializing in these sectors, it is essential to select professional products that allow for important benefits in terms of economics, time and results!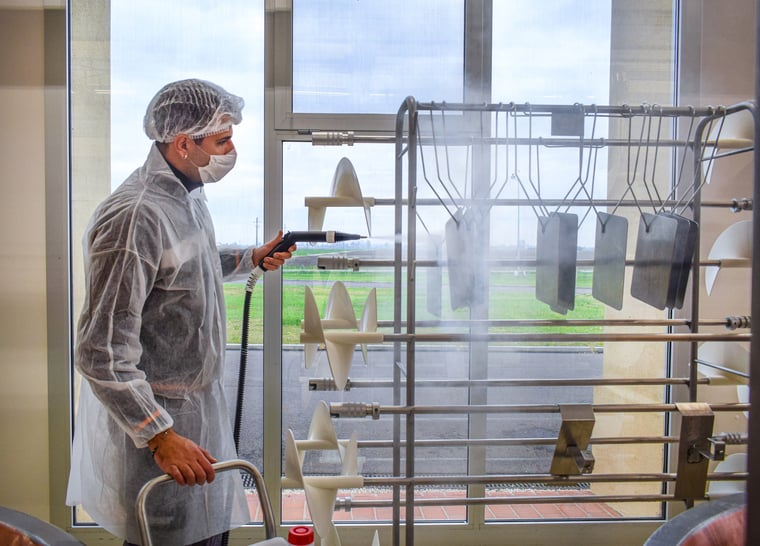 By using high-pressure cleaners and generators in the food industry you can:
Improve maintenance of machinery, thanks to deep and efficient cleaning, capable of reaching even the most hidden places where organic substances might settle. In this way it will be possible to avoid serious problems that would compromise the very operation of machinery, as well as the quality of the food itself;
Increase levels of cleanliness and well-being, allowing workers to experience a safe and healthy environment;
Raise the quality of products themselves, avoiding the preparation of contaminated batches unfit for sale, as well as penalties and fines for low quality standards of the workplace and product sold.
Food industry: the high-pressure cleaner for dairy farms
There are many sectors of the food industry where the use of professional cleaning machines is now essential. A good example is the dairy industry. In fact, stalls, milking areas, dairies, laboratories and machinery must be washed frequently and to perfection in order to ensure the high quality standards in compliance with the law.
To prevent the proliferation of germs and bacteria, an excellent apparatus for professional cleaning, ideal for this type of environment, is the high-pressure cleaner, especially the hot-water version. This multipurpose apparatus can be used in a variety of settings thanks to the many compatible accessories that make it the perfect sulution for any professional cleaning job.
Among the many models available, an excellent solution for dairy farms is the HLR hot water high-pressure cleaner. Thanks to the internal water heating coil (it may also be used without turning the boiler on), the jet flowing out reaches high temperatures that make it possible to eliminate the proliferation of microorganisms and parasites, which might compromise the wholesomeness of milk, dairy products and by-products. In just a few moments, it is thus possible to clean during the various phases of production, preserving the quality of the product.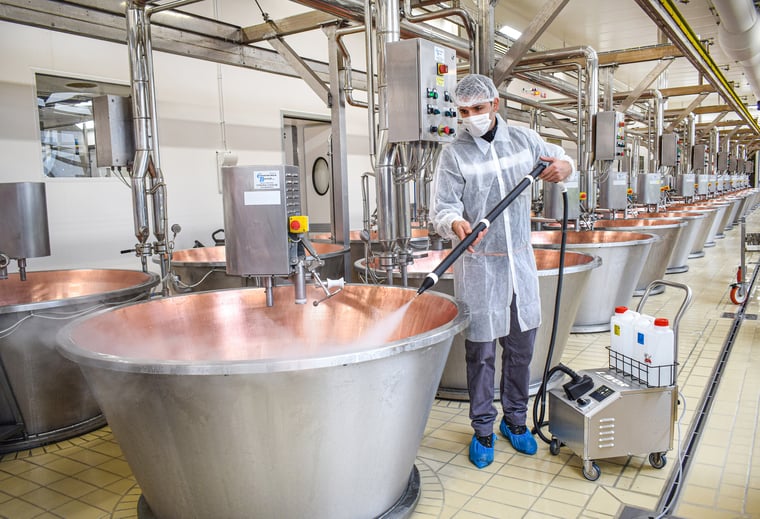 Steam generators for cleaning in food industries
In addition to the power of the jet which makes the high-pressure cleaner an essential tool for fast and effective professional cleaning, another key aspect for sanitizing rooms is temperature. In fact, microgerms contained in organic food waste residues die at temperatures above 75°. By using a steam generator, with the jet reaching 185°, it is possible to work on all kinds of dirt, removing it and preventing bacterial growth.
By using the steam generator for cleaning in food industries, it is possible to clean quickly and effortlessly on surfaces and machinery by destroying their bacterial load and eliminating biofilm, typical of greasy and oily residues, which is usually resistant to foams and detergents.
The main advantages that make the steam generator indispensable in food industries include:
Its gaseous jet which disperses in the air and can reach every point of the machinery, even those that are not visible or particularly difficult to reach. This makes the steam jet much more effective than the traditional water jet;
Surfaces immediately dry and ready to use. With the steam generator, sanitization takes place very quickly, allowing excellent production continuity, without setting aside cyclic cleaning operations, even several times a day;
Significant savings in terms of water, decreasing its use and disposal by up to 90%, as well as reducing the use of detergents and chemicals by up to 95%.
If you don't know which generator to choose for cleaning your laboratory or food industry, a great solution is GV Vesuvio, available in five different models to meet each user's need. Simple in use and exceptional in performance, this stainless steel apparatus produces a 10-bar jet of steam that reaches 180° in just 6 minutes.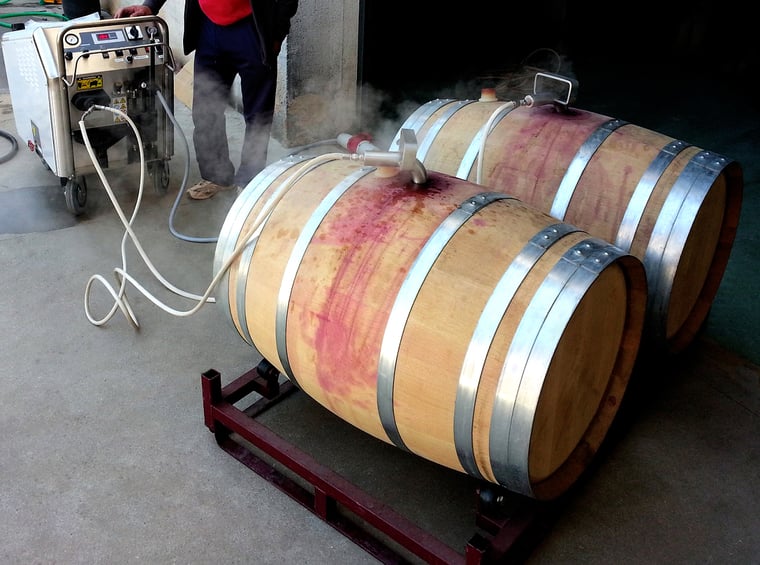 Thanks to its intuitive control panel, it is possible to control every function, promptly carrying out any maintenance work. Convenient wheels allow moving it from one area of the plant to another and the many included accessories make it the perfect multipurpose solution for any small or large food industry plant.