High-pressure cleaners in building sites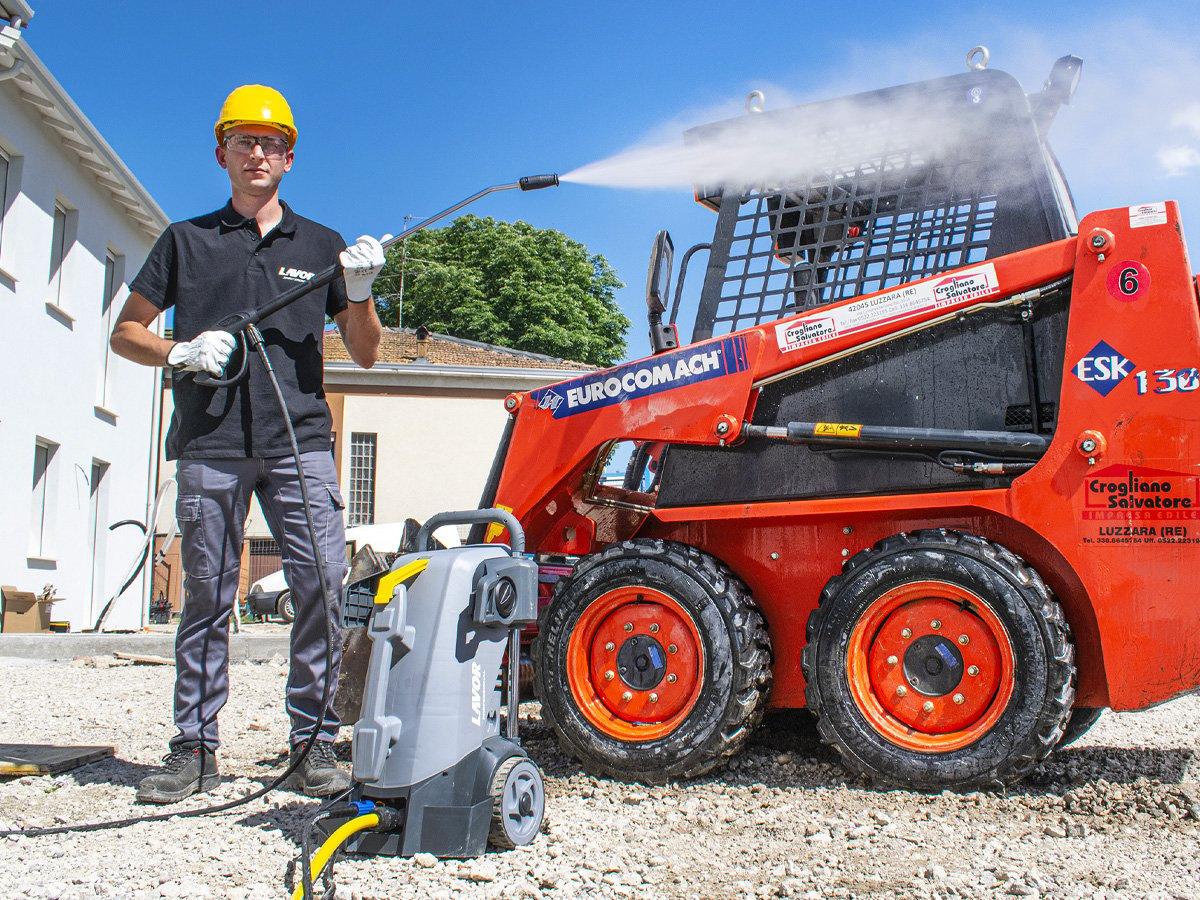 It's normal to have to deal with dust, cement and encrustations on a building site, but in order to work both efficiently and safely, it's important to maintain a clean workspace. To do so, specialised tools must be
used that simplify and speed up the cleaning process.
Professional high-pressure cleaners in either electric, diesel or petrol versions, represent an indispensable ally in these types of industries. These are highly versatile tools that play a very important role in building sites, supporting the various stages of work. One one hand, they are ideal for cleaning machines, tools, vehicles, walls, and floors. On the other, thanks to the many compatible accessories such as sandblasting lances, nozzles with high-pressure or rotary jets, and floor cleaning lances, high pressure cleaners offer excellent support for various activities such as sandblasting, restoration or renovation works.
Cleaning building machinery with a high-pressure cleaner
The machinery in a building site is one of the most powerful work forces, especially when it comes to breaking, lifting, and moving material, and also in producing essential materials such as concrete and cement. The extensive use of water and handling of dense and powdery substances makes it easy to produce dirt, requiring a huge effort and a lot of time at the end of the works, to clean up the mess.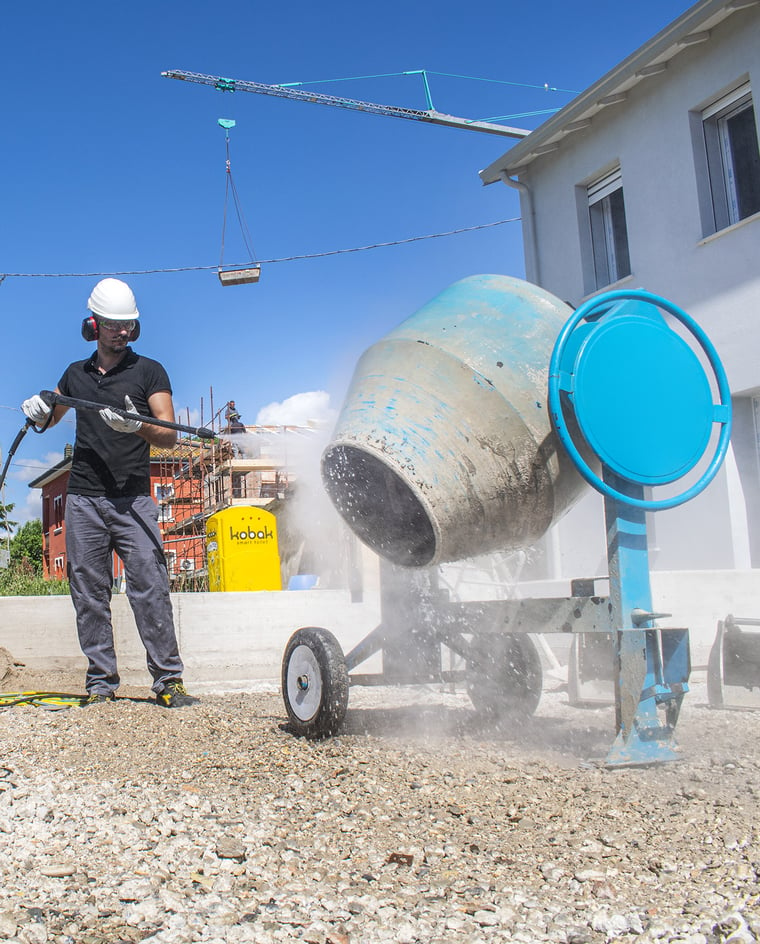 Relying on specialised tools such as professional high-pressure cleaners significantly simplifies the workload, and also reduces cleaning times. The high-pressure jet removes concrete and cement deposits left inside the mixer, and can be adjusted to remove all types of dirt, from dust to debris. Machine maintenance is therefore simplified, preventing wear caused by dirt and encrustations.
How to clean walls and surfaces with a high-pressure cleaner
In addition to building walls and coverings, in a building site those same surfaces need to be cleaned of any dust, mould, smog and encrustations. A high-pressure cleaner is also very useful during this stage to speed up the wetting and removal of dirt. Equipped with accessories such as the floor cleaner, suitable for all types of flat surfaces, it is ideal for cleaning large-sized areas, while for smaller surfaces, excellent results can be obtained using a fixed or rotary brush.
In addition to saving time, high-pressure cleaners are also a sustainable tool in terms of their environmental impact. Unlike the classic rubber hose, they in fact exploit the power of the jet, allowing a water saving of up to 85% and less use of detergent, while also minimising the impact on wastewater drains.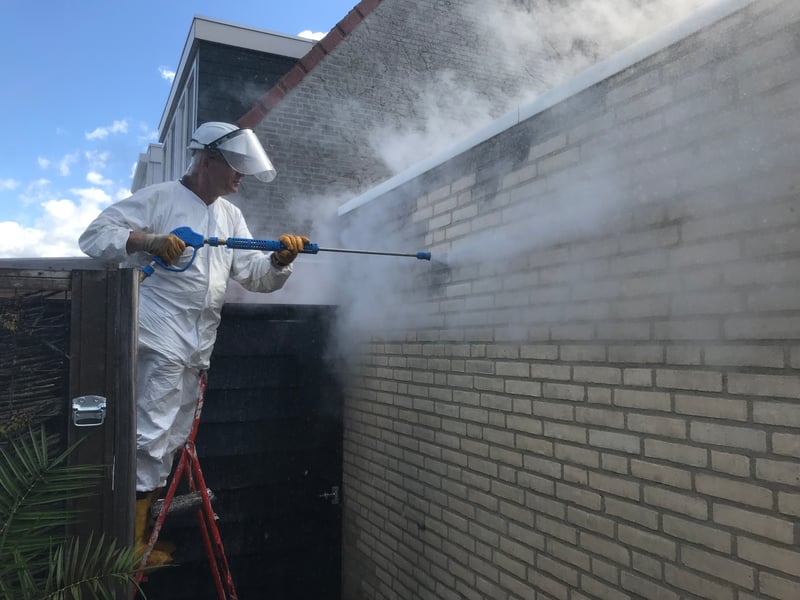 Restoration and maintenance works with a high-pressure cleaner
In addition to cleaning machinery and surfaces, with the right accessories a high-pressure cleaner can also become a very useful tool in restoration or maintenance work sites. Lances, nozzles or other types of accessories can be rapidly and very easily inserted to work on surfaces requiring restoration:
Removal of dust, mould, wax, greasy substances, without damaging the surface;
Elimination, with a delicate but targeted jet, of the the flaky components of old paints, speeding up the preparatory stage in view of an upcoming restoration;
Roughing cement after the pour with a high-powered jet, or quickly eliminating old layers of bitumen.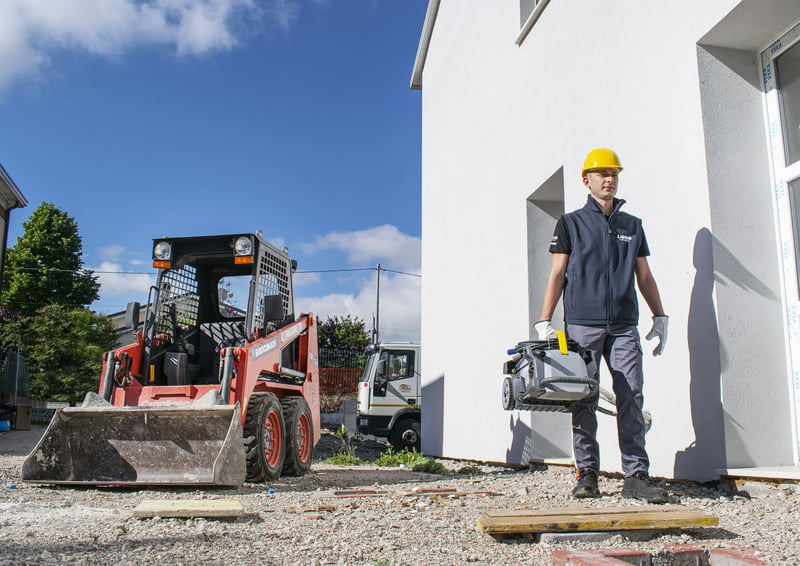 Sandblasting in a building site
The broad versatility of high-pressure cleaners make them an "all-in-one" tool, allowing them to replace other work tools and ensure a high standard of quality.
Take sandblasting for example. By applying a water sandblasting lance to the high-pressure cleaner, internal surfaces and walls can be treated as if we were using a sandblaster. This technique is very important, because it facilitates and optimises the painting stage, simplifying the adhesion of the substance. The same powders can also be used to clean radiators, handrails in metal, wood, granite, stone and marble, paint, dust, stains and smog.
Sandblasting also makes it possible to clean the walls of any substances and smog. The abrasive solution works gently only on the parts that need to be removed, without damaging the rest of the surface. The presence of water and the possibility to adjust the pressure of the jet also makes the action less aggressive, guaranteeing a better result with respect to classic sandblasting.
Which high pressure cleaner to choose for a building site: Thermic 2W
Having a professional high-pressure cleaner is an important advantage for a building site, simplifying the various stages of work, lowering costs and speeding up cleaning and restoration activities. Just as important is choosing the right tool for your needs, purchasing a product that is complete, sturdy, and professional.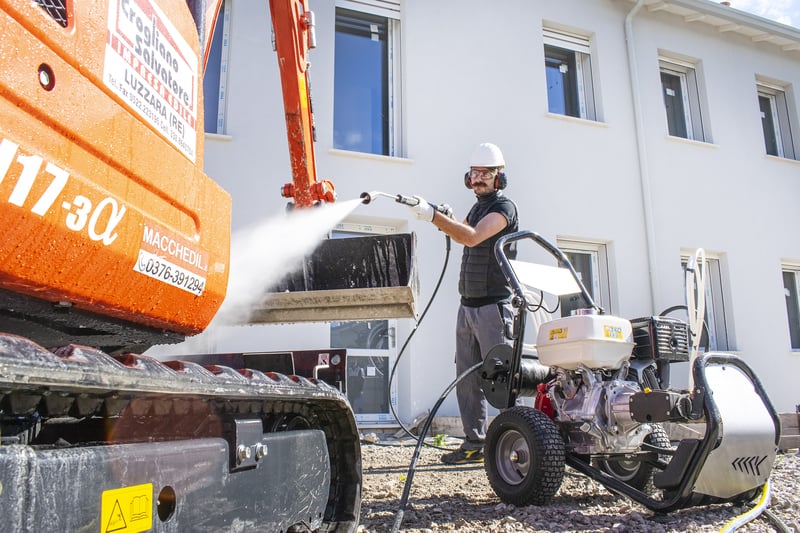 An excellent solution for cleaning building sites is the Thermic 2W, a petrol-operated high pressure cleaner with Honda GX and Loncin motors, a flow rate of 900 l/h and pressure from 210 to 290 bar (depending on the version). The benefits of this model include:
A large 5-litre detergent tank with integrated filter and cap;
A sturdy steel frame, with a high guarantee of durability and impact resistance;
Large Ø 300 tyres, also ideal for steps and uneven terrain;
Pump with brass head, also ideal for intense use;
Pressure regulator, allowing the jet to be regulated according to need.
Thermic 2W comes with a high-pressure lance, gun, high-pressure nozzle and high-pressure hose, for intense and repeated use, ensuring continued high performance and resistance.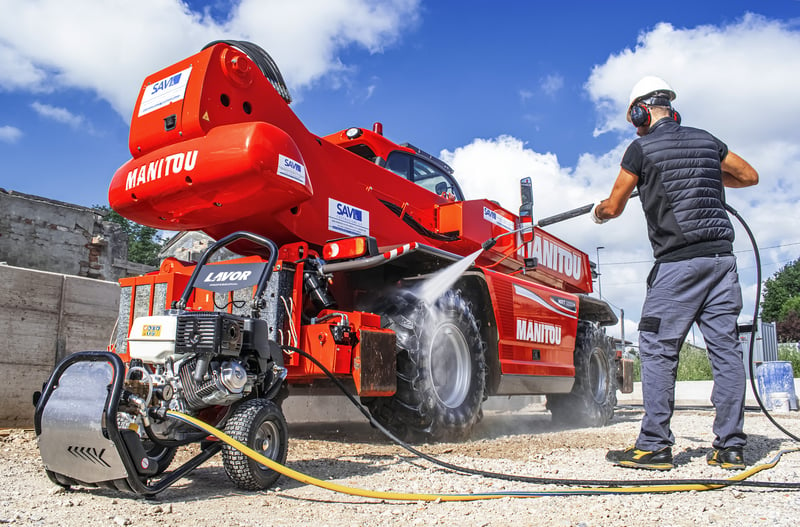 High-pressure cleaners: Indo and Lena
Lavor is very familiar with the needs of job sites, both small and large, and offers a broad range of professional high-pressure cleaners to satisfy all requirements in terms of performance, efficiency, and speed.
Companies looking for more speed and higher efficiency should in fact choose a professional high-pressure cleaner with pressure between 350 and 500bar. There are two examples, Indo E 3518LP (350 bar) and Lena E (500 bar). Characterised by a sturdy and reliable structure with stainless steel hoods, a high-performance brass head pump, and a 4-pole, largely oversized motor with protective paint, these two models are extremely high-performing and ensure durability over time. Moreover, thanks to the glycerine-filled pressure gauge, the jet pressure can be constantly monitored and varied according to different needs. And thanks to the hot water seals, the Indo E model can also be fed with hot water up to 85°C, thus combining the force of high pressure with the degreasing power of hot water.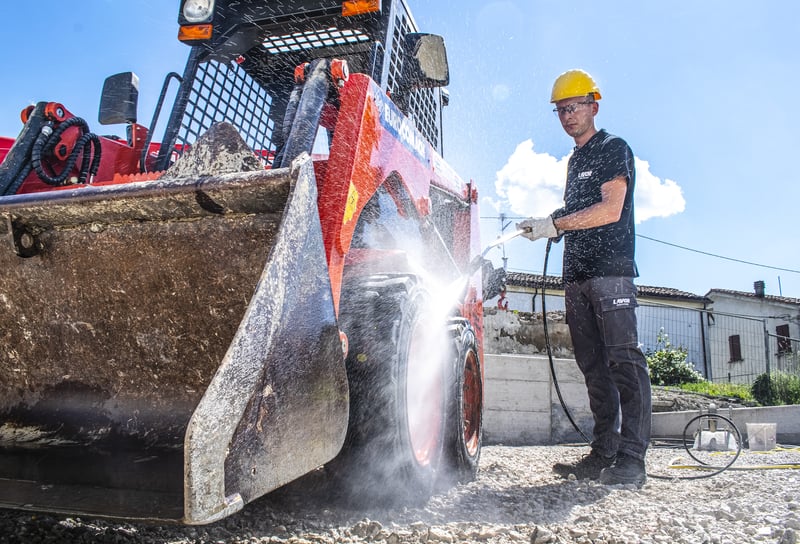 Thanks to a high-pressure cleaner, your building sites and machinery will always be clean, and that's not all. Choosing the right accessories can simplify your work, protect your surfaces and ensure the best results.