Floor care: cleaning shopping malls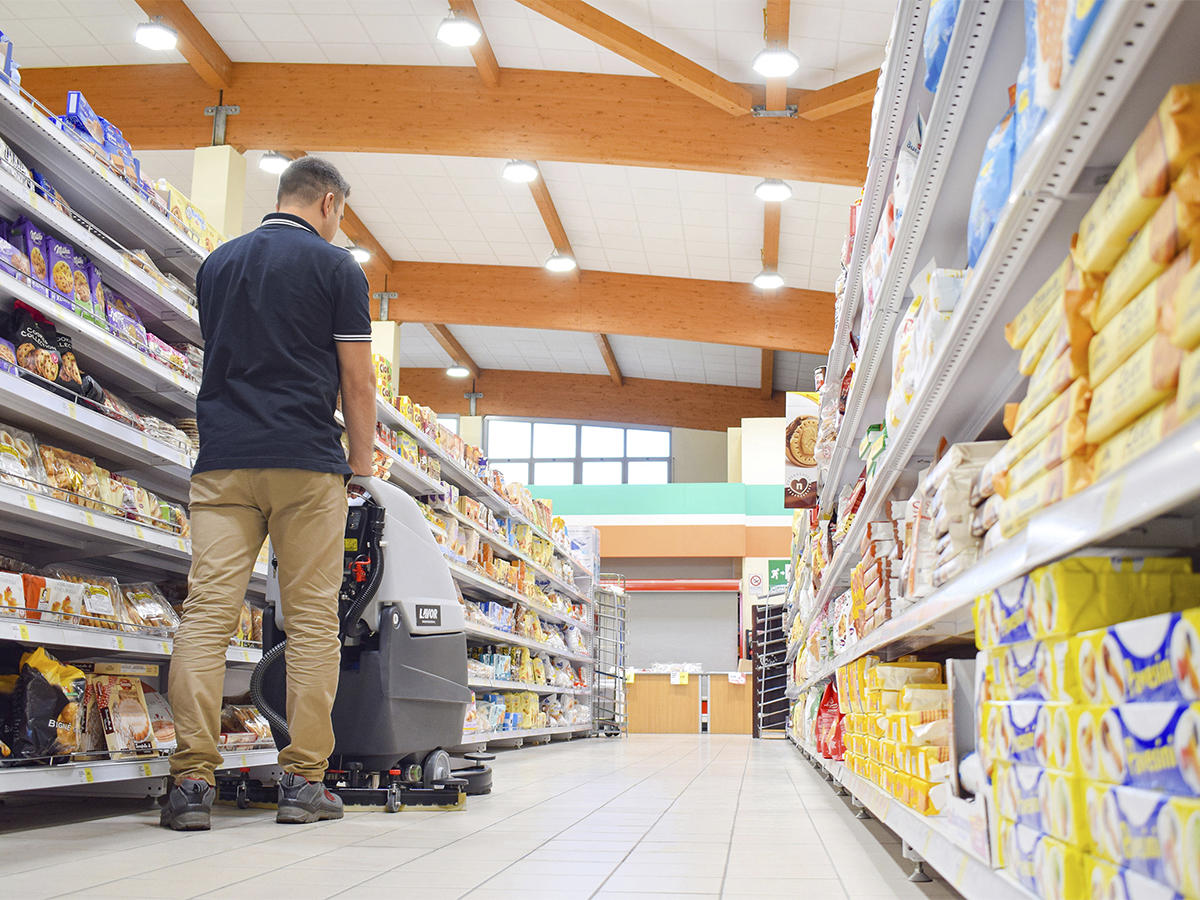 Shopping mall floors frequently become dirty due to continuous trampling by visitors. Every day, hundreds of people walk and bring in all kinds of soil, dust, stones and dirt between the shelves, in the aisles,
restrooms and food courts. That's why it is essential to rely on professional solutions that can operate quickly without annoying customers, thus ensuring an excellent level of cleanliness.
Vacuum cleaners, sweepers and floor scrubber-dryers are the perfect solution for floor care inside shopping malls and supermarkets: here's why and how to use them while getting the best performance.
Professional floor care cleaning
In recent years, more and more shopping malls, supermarkets and large-scale retail chains have changed their access planning so as to ensure continuous opening to customers, welcoming them 7 days a week for long periods sometimes exceeding 12 continuous hours. This has increased the need to find solutions for professional cleaning that can ensure excellent operation, even in the presence of customers and workers.
The ideal solution for floor care in malls and supermarkets are professional cleaning machines such as vacuum cleaners, floor scrubber-dryers and sweepers, which provide deep cleaning in no time. These quiet, top-performing machines vacuum, collect, wash and dry in a matter of minutes, avoiding the need to stop customer access to specific mall areas or aisles. This makes it possible to operate frequently, providing customers with an excellent, comfortable and safe shopping experience.
By using these professional products, it is therefore possible to carry out cleaning inside shelves, aisles, restrooms, food courts and stores at any time, whether for routine or extraordinary cleaning.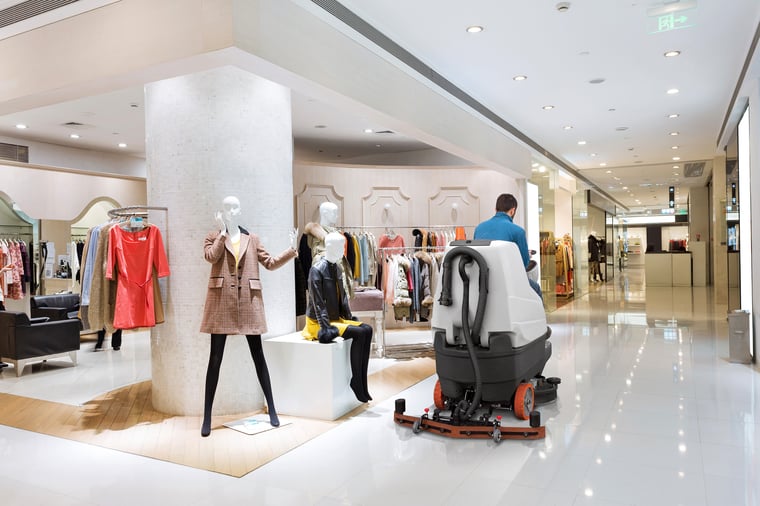 The best professional cleaning products of shopping mall floors are:
The vacuum cleaner which captures dust by filtering it inside an internal container and releasing clean air. Some models are available with specific features, dedicated to liquid suction or carpet cleaning;
The sweeper which picks up coarse-sized debris such as cans, plastic, glass or coarse material, clearing aisles and floors in no time and ensuring the safe passage of people, carts and strollers. They are particularly suitable for cleaning forecourts and parking lots outside shopping centers, i.e. very large areas often neglected by adequate cleaning services.
The floor scrubber-dryer which washes and dries all kinds of surfaces in a few seconds, ensuring thoroughly sanitization. They can also be used with customers walking around and during opening hours, cleaning and especially drying of floors is immediate and does not require waiting.
The latter solution is particularly suitable for shopping mall floor care where continuous trampling could make floors slippery, sticky or full of germs and bacteria.
All the benefits of the scrubber-dryer
During a rainy day, it is easy to bring slush inside supermarkets and malls or make the floor dirty and slippery due to water carried unintentionally by footfall. Accidents may occur within the food courts and restroom areas that require even extraordinary cleaning, due to drink spillage or large flows of people.
General cleanliness is now considered a must and is used to confirm the quality of the stores within the shopping center itself.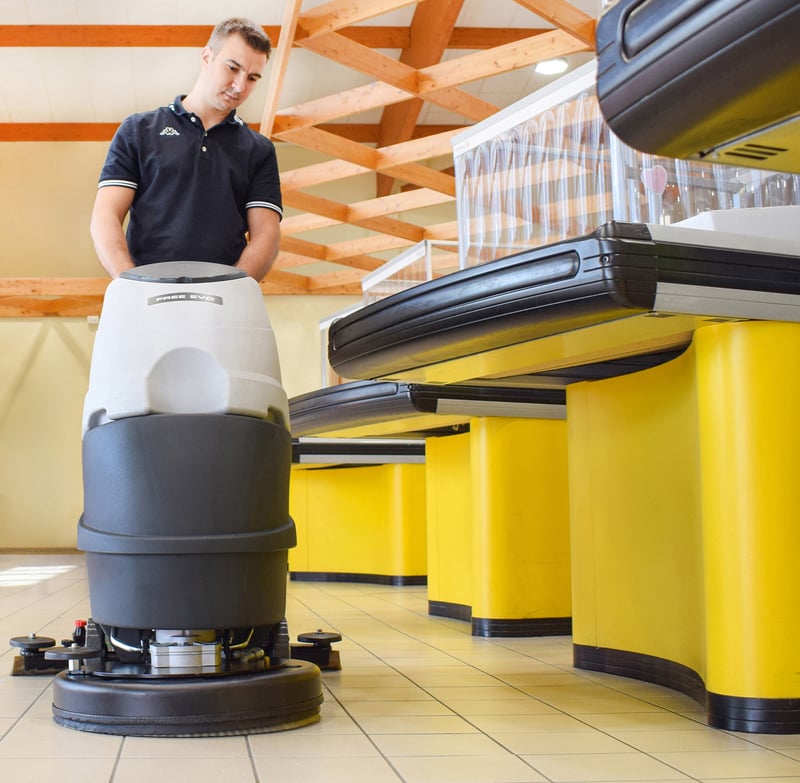 A floor scrubber-dryer is essential to keep areas safe, clean and sanitized at all times, welcoming customers and protecting their comfort. As its name suggests, it consists of two systems, the first dedicated to washing the surface and the second to its immediate drying. As the floor scrubber-dryer passes, the rotating brushes release water and detergent that is promptly collected, along with dirt, by the squeegee, and then deposited inside a dedicated tank thanks to its vacuum system. In this way, the water used for cleaning will always be clean, thus ensuring an excellent result in terms of cleanliness and sanitization.
The main pluses of the floor scrubber-dryer are:
Reduction of work time by more than 50% compared with normal manual cleaning systems;
Professional washing and sanitizing without fencing access to the area for customers and workers, thus ensuring immediate cleanliness throughout public opening hours;
Significant savings in water and detergent, making this solution an excellent investment from an eco-friendly standpoint as well;
A perfectly clean surface without marks or stains;
A reduction in fatigue by the operators in charge of using these machines.
The Comfort XS-R1 "ride-on" floor scrubber-dryer
For floor care in shopping malls and large areas, the ideal solution to rely on is a "ride-on" floor scrubber-dryer. Here, the operator sits directly on the floor scrubber-dryer thanks to a comfortable seat and drives the vehicle effortlessly using a steering wheel.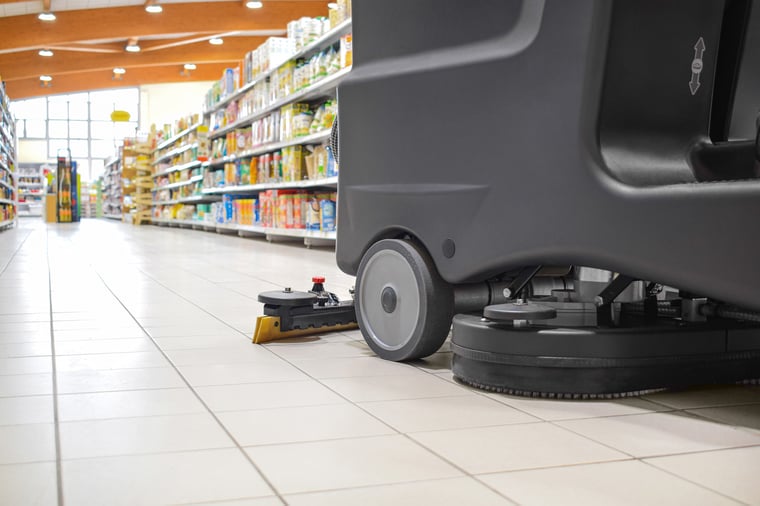 An excellent solution for professional floor sanitizing and cleaning is the Comfort XS-R1, designed for operation on large areas up to 4000sqm. This compact-sized machine generates more than 50kg of constant pressure on the brushes, dissolving even the most persistent dirt. The brush quick-release system, inspection porthole of the recovery tank and squeegee safety system when reversing make it easy to use, allowing safe work even for unskilled operators.
With Lavor's professional cleaning products you will always rely on the ideal solution for your floor care, thus simplifying work for operators and giving customers an unforgettable shopping experience.