Clean to the goal: Lavor partners with Appenninica for race bike washing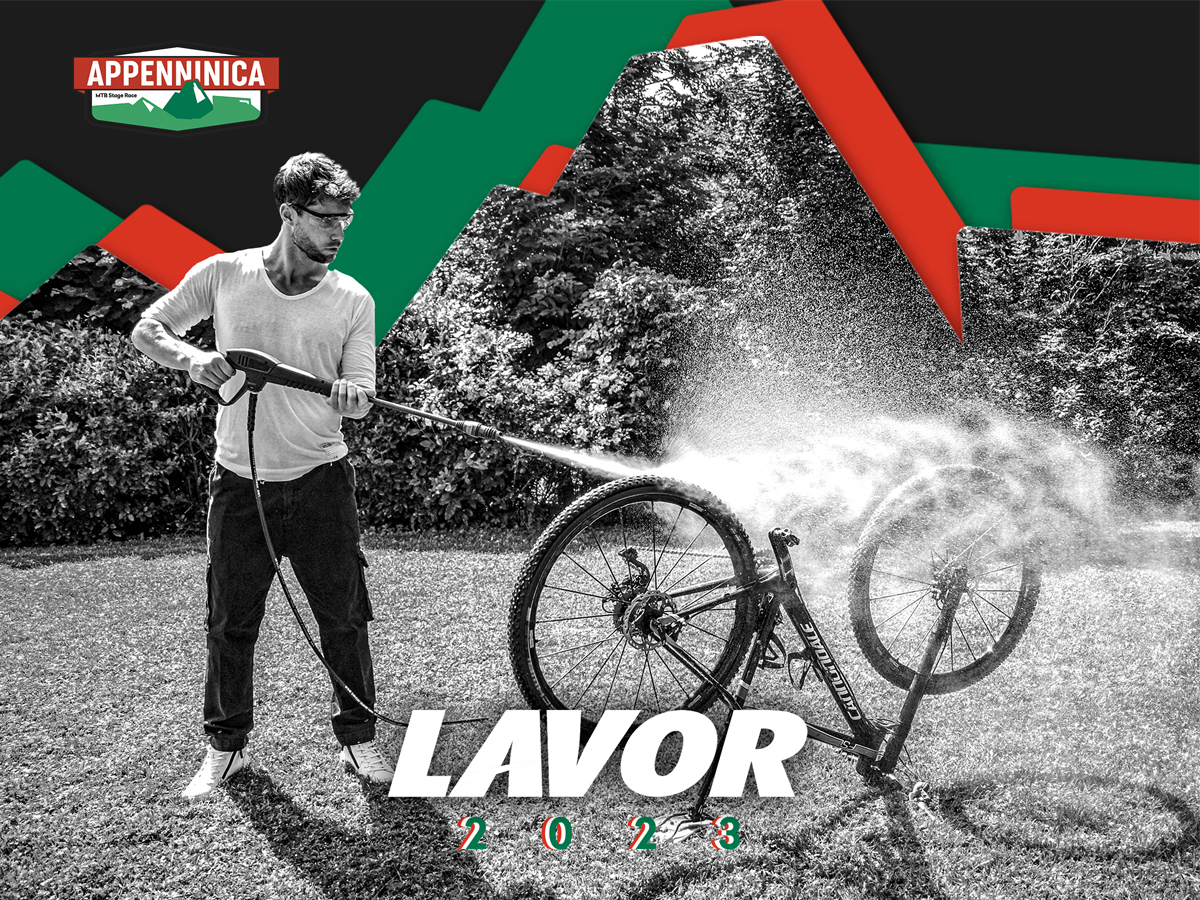 Clean to the goal! The new partnership between Lavor and Appenninica MTB Stage Race, one of the most important Italian events dedicated to the world of mountain biking. Always on the side of sports, Lavor, the
leading Italian manufacturer of high-pressure cleaners, will be available to all participants in the race to maintain and clean their mountain bikes.
Lavor bike washing at Appenninica 2023
Now in its fifth edition, the Appenninica MTB Stage Race will again this year see talented athletes compete in a six-day race along the Apennine ridge between Tuscany and Emilia-Romagna. The new edition, to be held between Sept. 4 and 9, 2023, will boast the participation of 150 riders who will race in the provinces of Bologna, Modena, Reggio Emilia, crossing Regional and National Parks along the Alta Via, and covering about 400km of roads, with a total elevation gain of 14,000m.
A hilly and mountainous race, totally enveloped in nature, where the environmental and climatic components will play an important leading role, favoring or not the coveted result of the talented participants. Offering all athletes concrete support during their ride is Lavor, the supplier sponsor of the event, which will provide post-race bike washing services for all six days of the event. Keeping one's mountain bike clean and at top performance is in fact essential within these types of circuits, where it becomes essential to compete by relying on high-performance, suitable and safe bikes.
At the end of each stage, riders can take advantage of dedicated bike washing areas, where they will find Lavor high-pressure cleaners at their disposal for deep, fast and effective cleaning of their MTBs. With these products, mountain bikes covered with dust, foliage and soil can be easily cleaned in every part, returning as good as new. This is an added benefit for the competing athletes and their teams, who will be able to rest up for the next stage, safe in the knowledge that they will have their mountain bikes at peak performance.
Cleaning and maintaining mountain bikes with Lavor high-pressure cleaners
While for city bicycles it can often (but not always) be enough to use a wet cloth to remove dust and smog, for cleaning mountain bikes it is necessary to rely on specialized cleaning products, such as high-pressure cleaners. These solutions not only allow achieving maximum results in very little time, but also ensure constant maintenance of your MTB, preventing damage to internal components such as spokes, wheels, chains, suspension, grips, brakes, shifts and transmissions.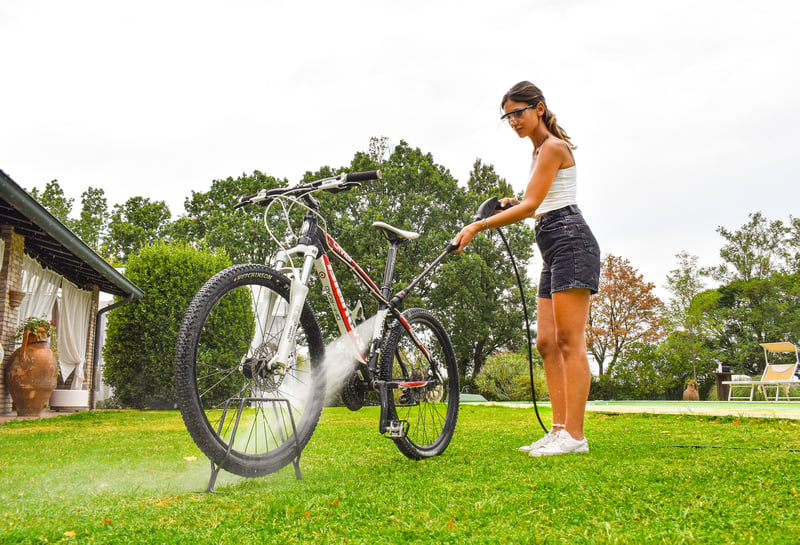 In contrast to traditional city bikes, mountain bikes are in fact set up to move over rough roads with dry and dusty soil, as well as in swampy areas full of foliage, crushed stone and slush. Riding continuously and at high speed over these kinds of surfaces, especially if during a major circuit like the Apennines, it is a given that you will find yourself at the end of the stage with your frame, wheels, saddle and components completely covered with more or less encrusted dirt. Employing bucket, mop and brush would take a long time, without the certainty of having succeeded in thoroughly removing the most encrusted and least visible dirt, causing day after day damage to the MTB and making your bike unsafe and not very smooth.
On the contrary, through the use of a high-pressure cleaner it is possible to work thoroughly on each component, avoiding:
Damage, caused by the continuous settling of dust, dirt, slush and micro-debris. This concerns both the aesthetic side, such as the frame, and the more technical-functional side, such as the MTB internal components;
The burdening of the bike. The continuous deposit of mud and dirt adds to the very weight of the bike, slowing its pace and affecting the athlete's and team's chances of achieving their goals;
Safety issues, by clogging the shifts or brakes, making the wheels frictionless and more slippery, or increasing the risk that they may be damaged during the race.
Thanks to Lavor high-pressure cleaners, it is possible to get clean to the goal, even after days of heavy use. Harnessing the power of the pressurized water jet, this product is efficient on even the most encrusted dirt in a matter of seconds, reaching all hidden parts such as grips, shifts and transmissions. Using the lance you will be able to direct the water and taking advantage of the adjustable jet you will always have the right pressure to work safely on stains and encrustations, protecting the most delicate components.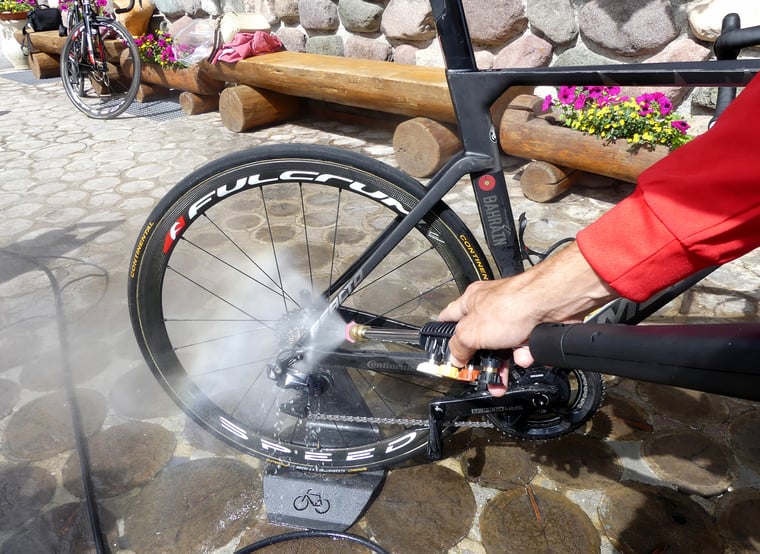 With Lavor high-pressure cleaners you can get an excellent level of cleanliness for your mountain bike in just three steps:
use a flat jet nozzle to work on wheels, saddle and frame. With this first step you will be able to remove surface dirt and moisten the solidified topsoil. It is important to always pay attention to the most delicate parts, such as hubs, gears, shifts and handlebars, to avoid applying too strong a jet to them;
with the gun and adjustable foam lance, remove the most encrusted dirt using a solution of water and detergent;
do the final rinse using the brush. If necessary, move closer using the needle jet of the high-pressure lance, also thoroughly removing the encrusted dirt between the wheel lugs.
In just a few moments, you will have your mountain bike ready again for the next race day, ensuring high performance and all the safety you need to aim for your goal!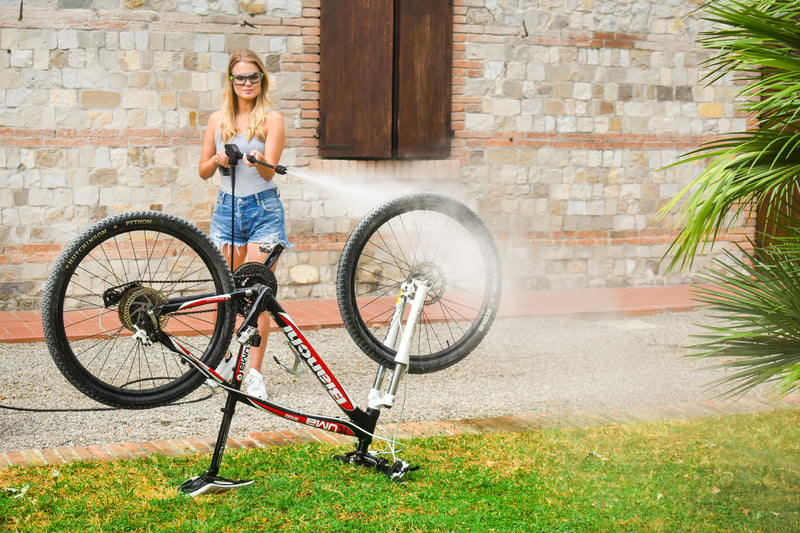 Always working to support sports!
The partnership with Appenninica MTB Stage Race introduces Lavor to the world of mountain biking for the first time, but this is not our first presence within the high-level sport! In fact, we are also premium partner of the MotoGP LCR Honda, which we have been following on and off the track since 2019, and a sponsor of Team Desert Endurance Motorsport, which in 2023 took part in the Dakar Classic.
The closeness between Lavor and sports is supported by a deep sharing of values, such as dynamism, the desire to always improve and teamwork to achieve important goals together. By using Lavor products, sportspeople can access a complete solution, making the most of these products to clean their tools, such as motorcycles and mountain bikes, or work spaces, such as offices, hallways, garages, training rooms and more.
With our high-pressure cleaners, we are ready to support all the riders competing in the 5th Edition of the Apennine MTB Stage Race, to promote the sport, helping athletes to achieve their goals, focusing on speed, efficiency and safety!