Professional vacuum cleaners, floor sweepers and scrubber dryers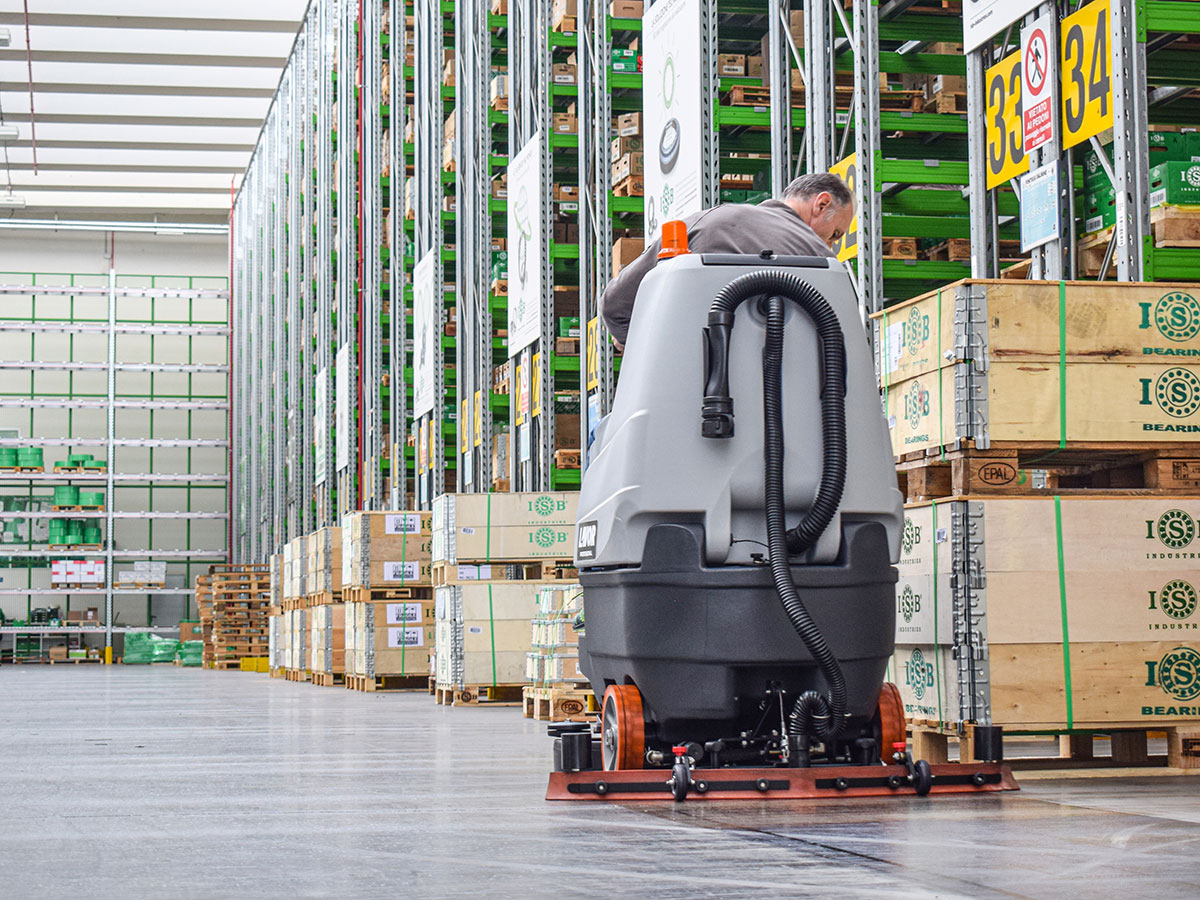 In warehouses, the generally very large surface areas mean that floor cleaning must necessarily be entrusted to professional equipment such as vacuum cleaners, scrubber dryers and sweepers.
A clean and tidy warehouse makes work easier and faster.
Keeping such large areas clean, however, where forklift trucks, pallet trucks and other vehicles pass through, gates and doors are opened and closed to the outside, goods are packed or unpacked in all kinds of packaging and cardboard boxes, is not an easy job.
Manual cleaning, with brooms, dustpans and mops, would require a waste of working hours that is difficult to pay off, and above all useless, when the same operation can be carried out in much shorter times using a special machine and with better results. For the professional cleaning of large surface areas, such as warehouses, there are, in fact, ranges of products specifically designed to speed up the work and optimize the results.
THE ADVANTAGES OF USING PROFESSIONAL FLOOR CARE EQUIPMENT
As we were saying, a clean warehouse makes the work easier and faster in several ways: the first one is the well-being and safety of workers, of course. Less dust and dirt on the ground means cleaner air, while keeping the warehouse free from cardboard and packaging residues means reducing the probability of accidents and speeding up loading and unloading operations.
The second one is being able to keep an always operating production cycle, since the cleaning of spaces occurs at the same time as routine production. Vacuum cleaners, sweepers and scrubber dryers can be used at the same time as normal warehouse activities, they do not require aisle fencing or floor drying waiting times, since these are agile and compact tools which can be easily put into operation without hindering the passage of the forklift trucks and personnel.
The third one is that these operations can be managed in-house without resorting to an external cleaning company; this is a both economic and organizational advantage: the cleaning of the warehouse does not have to depend on contracts with suppliers and pre-fixed schedules but can be managed in times of reduced activity by the hired staff, with economic savings and better organization of work.
The professional Lavor Floor Care range meets all the needs of the logistics sector: agility of movement between warehouse aisles and shelves, reliability and strength of the components, ease and safety of use.
THE ADVANTAGES OF FLOOR SCRUBBER DRYERS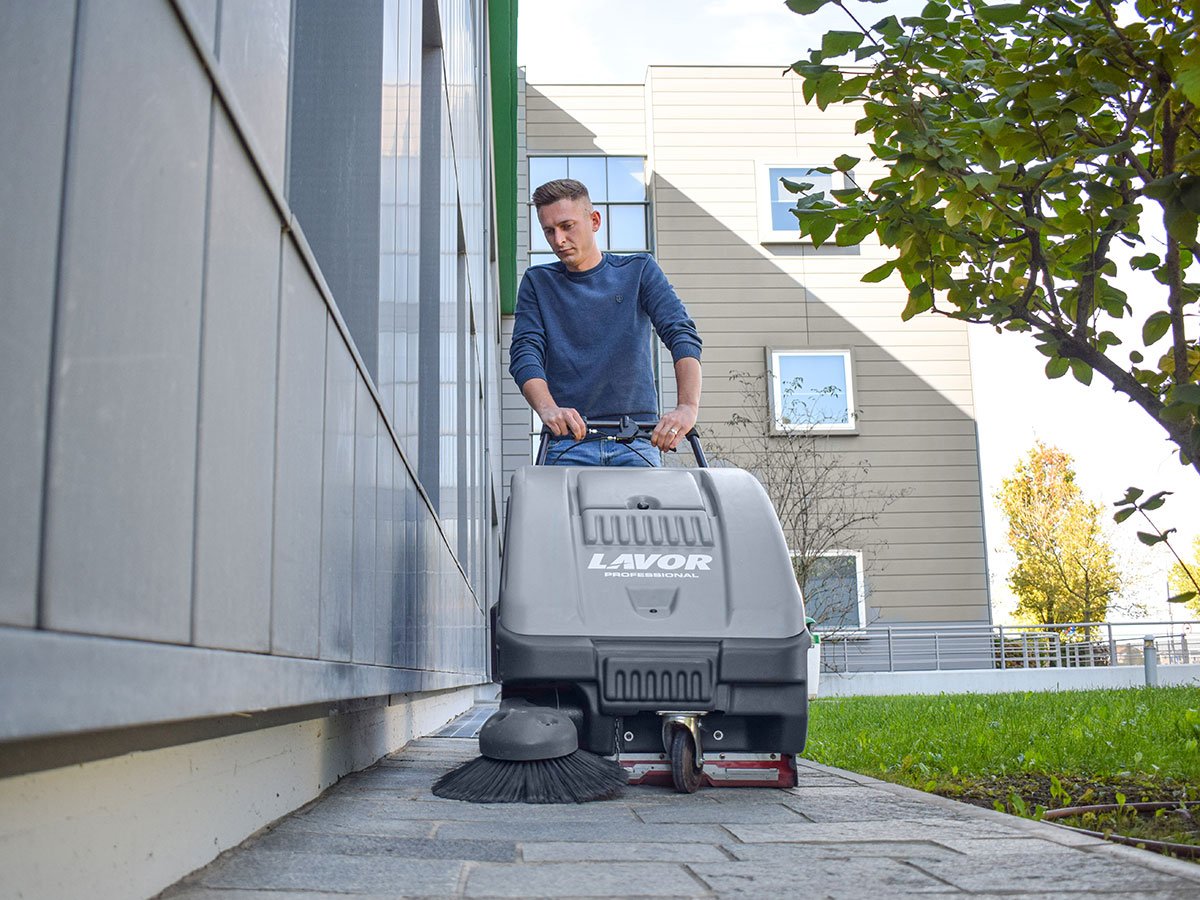 The professional floor scrubber dryer is the perfect solution if you wish to always have clean floors in a short time and, above all, if you don't want to wait for the surfaces to dry by fencing the area involved.
In addition to cleaning, the floor scrubber dryer can sanitize all types of flooring, by cleaning and drying quickly and thoroughly, ensuring floors are immediately dry and safe, thus avoiding accidents due to water residue or wet floors.
How does the scrubber dryer work? The cleaning action is ensured by its rotating brushes with stiff bristles which dispense a detergent solution onto the floor to dissolve dirt. The residual liquid is then collected by a squeegee and immediately conveyed into a special tank by a turbine, leaving the floor dry.
Depending on the way they are driven, scrubber dryers are divided into:
push (walk-behind) series, driven thanks to a handle on the back by a standing operator walking behind. These machines, which are very compact and easy to handle, make it possible to easily clean even the smallest areas of warehouses such as offices, conference rooms, refreshment rooms, cafés and all areas up to 500 square meters.
Its ease of use and handling allows it to be used even in the presence of people, where a larger machine would be intrusive.
ride-on series, equipped with a seat for the operator and a steering wheel for driving. These machines clean without problems surfaces up to 12.000 square meters, such as warehouses, logistic centers, production plants, supermarkets, etc. Thanks to their high performance, they allow very fast working times and excellent results, moreover they have a longer operation time compared to the walk-behind series.
Easy to use even by unskilled personnel, the scrubber dryers offer enormous advantages over traditional cleaning:
they reduce working time by more than 50%.
they wash and sanitize floors without fencing the area to the public
they consume less water and detergent, achieving a higher level of hygiene than conventional washing
they leave no marks or stains on the ground, ensuring an excellent aesthetic result.
THE ADVANTAGES OF SWEEPERS
Just as a vacuum cleaner makes household cleaning easier and better, a sweeper is the ideal solution for picking up dust and coarse dirt from large floor areas.
How does a sweeper work? The side brushes convey the dirt towards a central roller brush, the dirt is then sucked up and conveyed into a special container.
Less effort and better results compared to manual sweeping using scissor sweepers, and the suction also eliminates dust residues dispersed in the air when using the dustpan.
Sweepers are divided into:
push (walk-behind) series, compact and agile, suitable for small environments and in the presence of obstacles;
ride-on series, powerful and fast, capable of high performance on very large surfaces.
When choosing a sweeper, it is necessary to consider not only the size of the environment but also the power supply of the machine: for open spaces, you can choose a machine with an internal combustion engine; for enclosed spaces, on the contrary, you are obliged to choose an electric machine, to avoid the exhaust fumes emitted by endothermic models.
For warehouse cleaning, therefore, the latter are advisable unless you have to clean outdoor warehouses where the longer operation time of the vehicle could prove to be an important plus.
A wise choice will allow maximizing the time and optimizing the work by exploiting the full potential of these machines.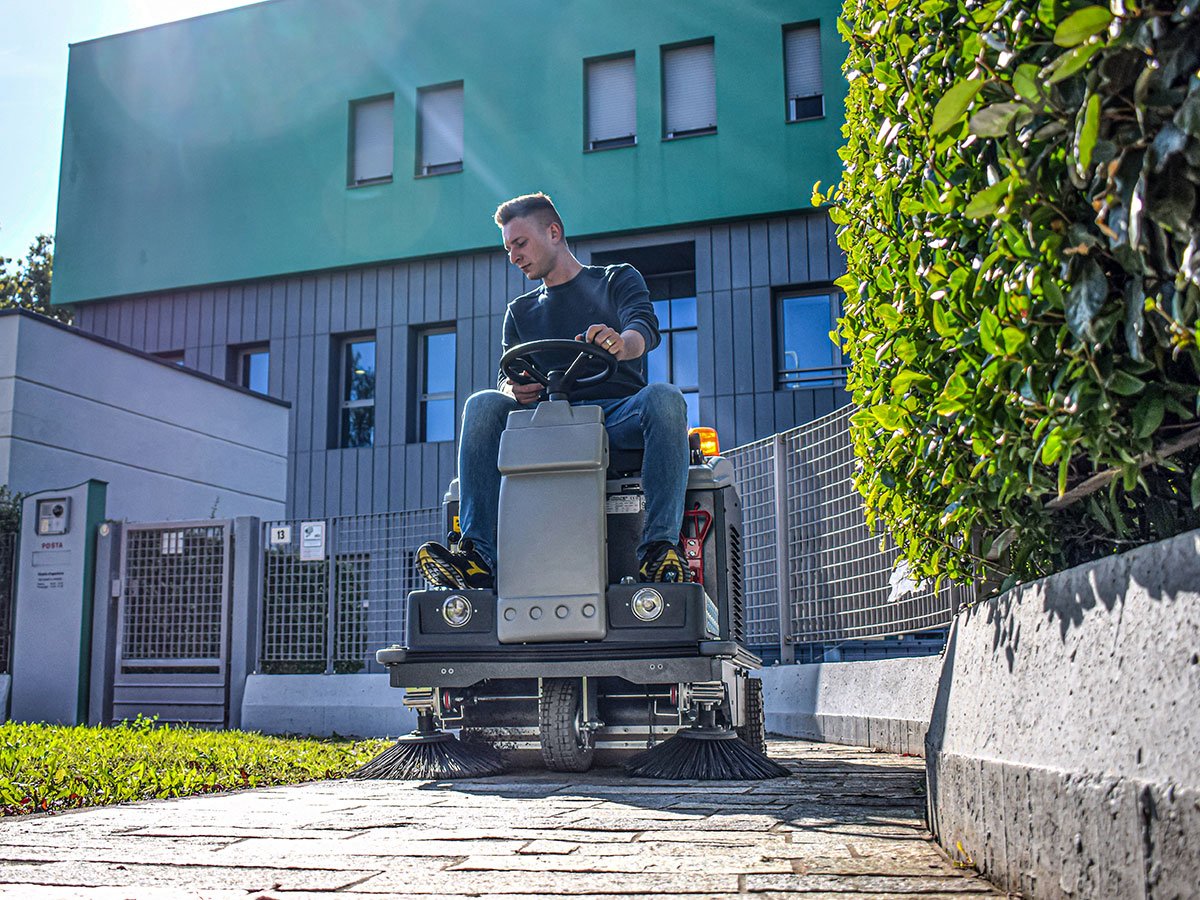 COMPLETE YOUR RANGE WITH THE PROFESSIONAL VACUUM CLEANER
In some cases you may also consider using a professional vacuum cleaner for optimum cleaning results. For example, if the warehouse floor is often cluttered with packaging waste, if the products being handled leave residues or if dust and dirt from outside tend to accumulate in the corners.
A professional vacuum cleaner is a versatile piece of equipment which can be useful in many situations: in the workshop, in the office, in the shop and not only for cleaning the warehouse.
Having professional cleaning equipment at one's disposal means being always ready to restore emergency situations without having to rely on external suppliers, it also means having always clean facilities and offering healthy and pleasant working areas.
For a company, equipping itself with this type of machine (professional vacuum cleaners, scrubber dryers and sweepers) is an excellent investment in the long term, both from the economic and production output point of view.