Ash vacuum cleaner or vacuum cleaner? All differences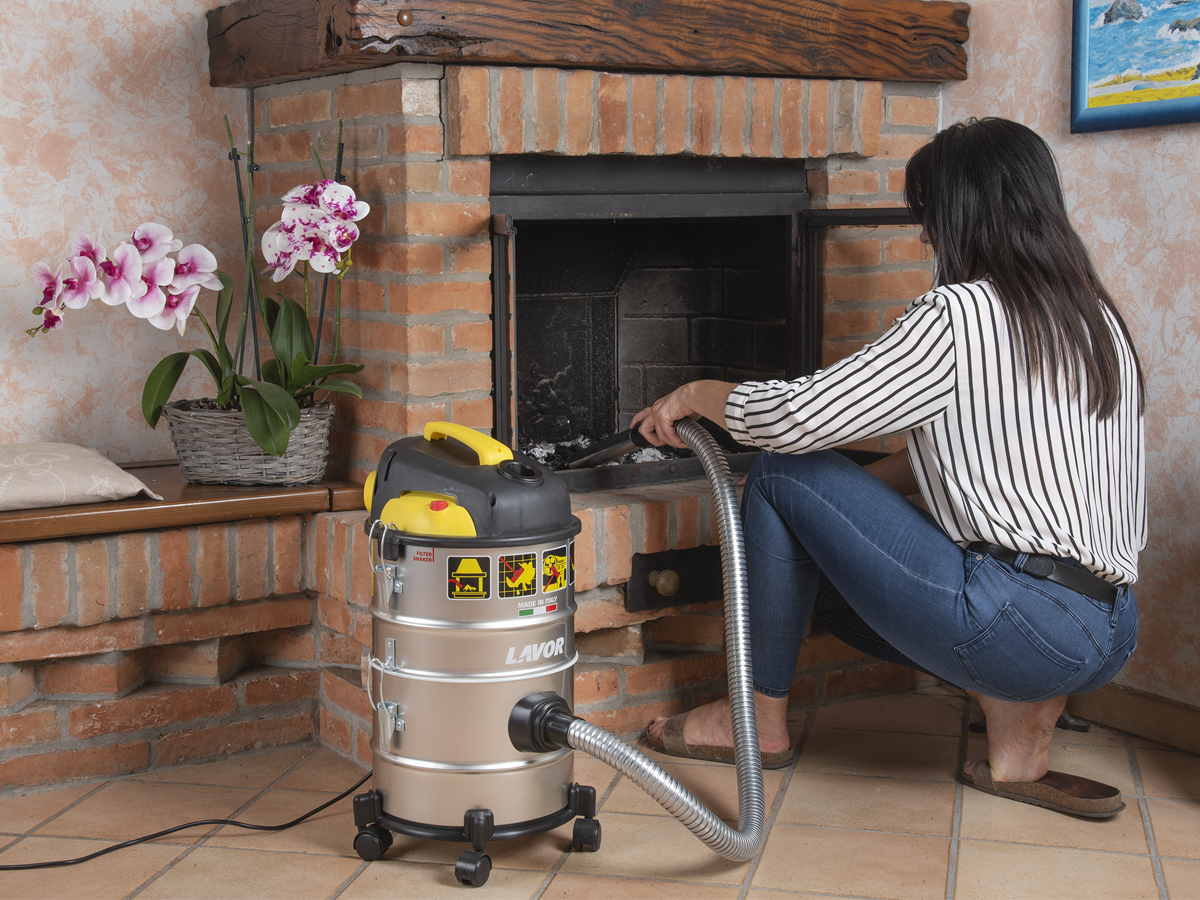 When talking about household cleaning, it is quite common to confuse ash vacs and vacuum cleaners. However, these two apparatuses have many differences, making them the ideal solution for cleaning
different types of rooms and surfaces. With the ash vac, removing ash becomes super easy and safe, using a special custom-made filter system. Conversely, using a vac to clean stoves and fireplaces can seriously and irremediably damage the apparatus.
Vac or ash vac? Here's how to make the most of these products for your household cleaning, always getting excellent results in a short time and effortlessly.
What is a vacuum cleaner and how to use it
For quick and deep cleaning of homes, workspaces, workshops and garages, floors and furnishings from dust and debris, the vacuum cleaner is an excellent ally. This apparatus not only removes dust and crumbs from any surface but, thanks to several unique features, it can also quickly vacuum up liquids or thoroughly clean surfaces of different materials, such as carpeting floor.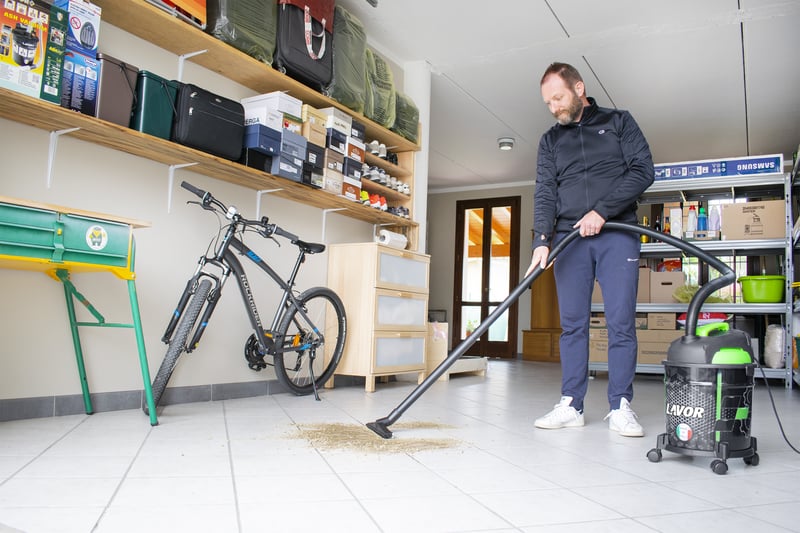 To fully appreciate how a vac works, it's essential to start with its structure, which is generally divided into the following four parts:
The head, consisting of one or more electric motors that generate the vacuum effect needed to suck up dust;
The filter system, which can be bag, fabric, cartridge or HEPA, and is used to separate dust from air;
The collection container, usually made of plastic or steel where, as the name suggests, the vacuumed material is collected;
The suction hose, which can be equipped with multiple accessories ideal for achieving even deeper, more effective and targeted cleaning. The hose can be of different lengths and diameters and, on one side, is connected to the collection container while,on the other side, to the accessory used, such as e.g. floor nozzles, flat lances for crevices and bristle brushes for upholstered furniture or flat surfaces.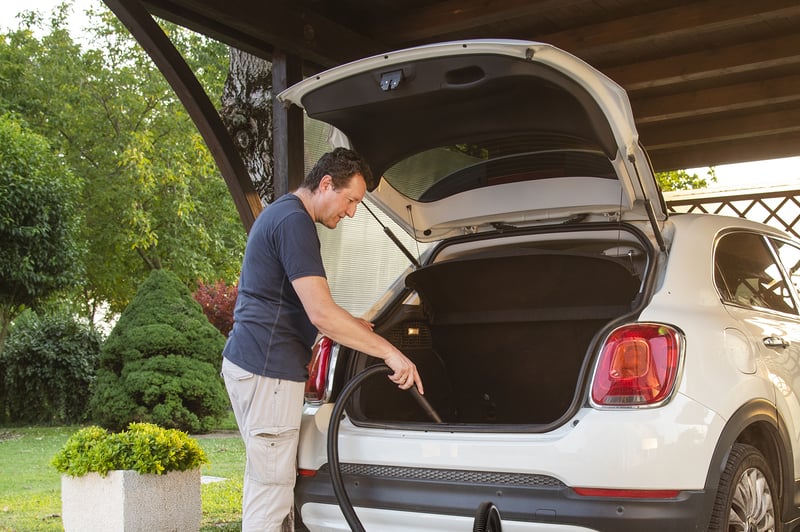 Different types of vacuum cleaner
Thanks to the vacuum effect generated by the motor, the vacuum cleaners remove all kinds of dust and small debris.
To meet several cleaning needs, vacuum cleaners are divided into a number of subcategories, characterized by specific functions making them top-performing products for household cleaning and beyond.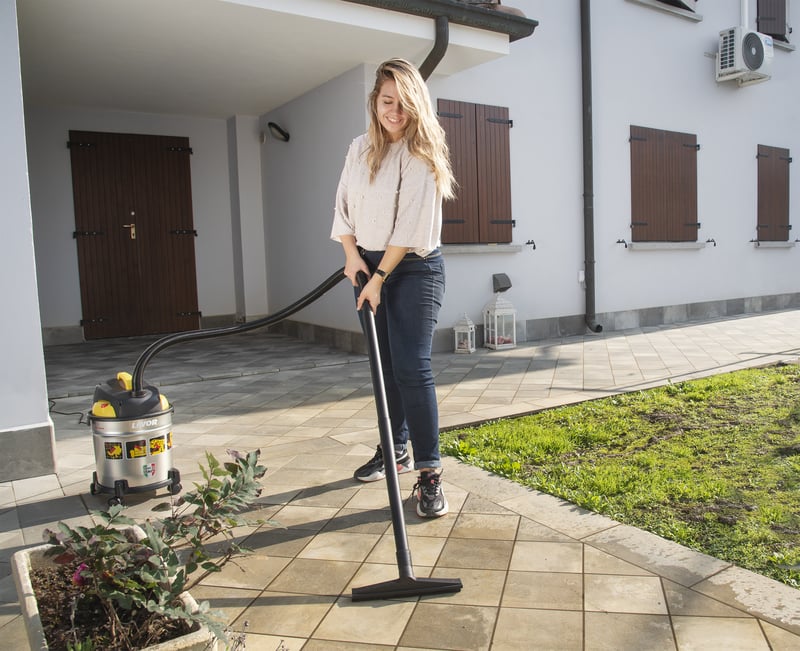 The main types of vacuum cleaners include:
The wet & dry vacuum cleaner that, in addition to solid materials, also sucks up wet residues or liquids in general. The vacuumed amount varies depending on the model and the capacity of the collection drum. In addition to the head, it is equipped with an internal system consisting of a float that blocks the suction in case of "overflow" thus preserving the suction motor;
The carpet cleaner, a multifunction tool which washes by injection and extraction of water mixed with detergent, and thanks to its high suction power, leaves all kinds of fabrics perfectly dry after cleaning, sucking up dust and liquids excellently;
The ash vacuum cleaner, equipped with a metal drum, coated steel flex hose and a special filtering system that captures ash avoiding any irreversible internal damage to the suction motor. The ash vacuum cleaner is usually small, lightweight and easy to carry but can also be equipped with wheels to allow for faster movement. The ash vacuum cleaner can only suck up dust and dry residues;
The multifunction vacuum cleaner, suitable for vacuuming dust, liquids and ashes: this is possible thanks to its accessory equipment complete with hoses, nozzles and filters suitable for carrying out all these activities in complete safety and ensuring effective results.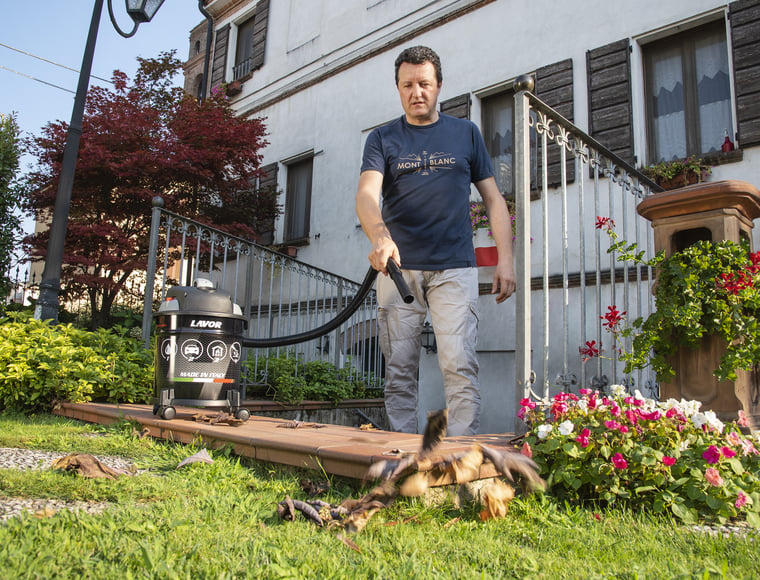 In the industrial environments, on the other hand, it is possible to use vacs capable of sucking up coarse debris, dust, toxic materials and harmful substances from floors and surfaces; these vacs, called precisely "Industrial", are usually large, equipped with induction motors called turbines that can work continuously for up to 24 hours. Accessory packages are offered as option and are ideal for even uncommon or particularly demanding applications with appropriate performance according to the type of intensive use. This will make any work area safer and more pleasant for employees.
There are also particularly compact and silenced professional vacuum cleaners which, precisely because of these features, can also be used in environments open to the public, such as schools, supermarkets, hotels, gyms, hospitals and offices.
The pluses of the ash vacuum cleaner
The ash vacuum cleaner is a type of vac dedicated to cleaning fireplaces and stoves. Its special feature is the internal system and the range of accessories dedicated precisely to ash, designed to prevent dangerous clogging by protecting the internal parts of the product.
This special vac consists of special filters which are ideal for the suction of this substance, which is much finer than normal dust; a flexible steel hose, whether plastic-coated or not; a steel tank, thus in line with compliance guidelines and regulations; and, last but not least, a filter system that can include a simple cloth filter or a washable cartridge filter that can be assisted by a prefilter to increase the degree of filtration and thus protection to the motor, up to and including a metal separator inside the drum allowing ash to be collected in a portion of the drum separate from the suction motor. By using the ash vacuum cleaner, wood-burning fireplaces and pellet stoves can be cleaned frequently, without the risk of deeply damaging the apparatus and thus avoiding a major loss in economic and performance terms. Thanks to its internal structure made for ash cleaning, this apparatus allows for extraordinary and routine operation, leaving every surface of the stove or fireplace clean, even vertical surfaces.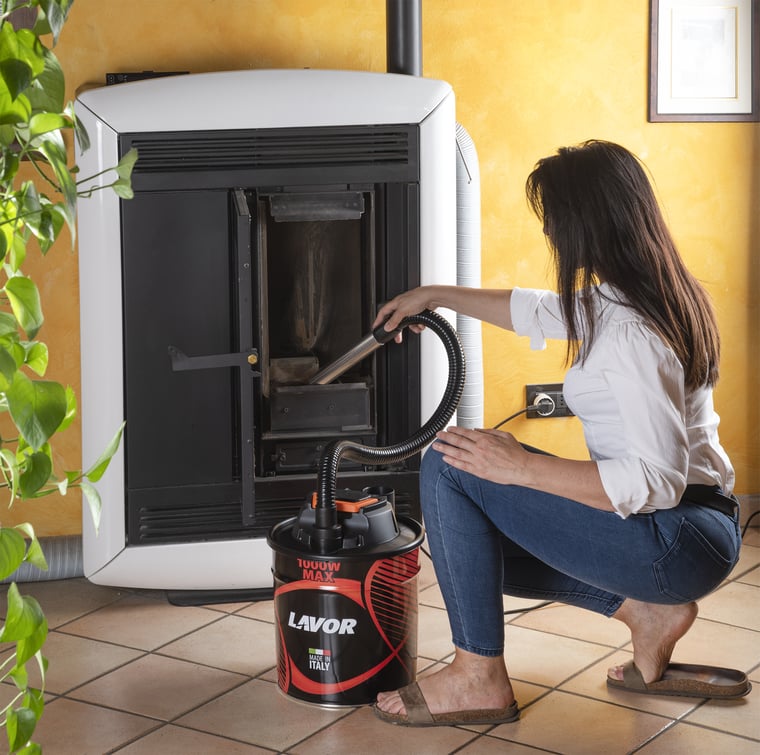 By using an ash vacuum cleaner, it is therefore possible to operate in every part of the fireplace or stove, thoroughly cleaning even the smallest parts and performing a perfect and excellent action both for daily cleaning and for extraordinary maintenance work.
Cleanliness and comfort with the Ashley 1000 Premium Evo ash vacuum cleaner
Choosing the perfect ash vacuum cleaner for fireplace or stove cleaning allows for effortless action, even for routine cleaning. Moreover, by opting for a quality product, even maintenance of the ash vac can be carried out in a matter of minutes, achieving excellent results and avoiding damage to the product.
Such is the case with the Ashley 1000 Premium Evo, a powerful and compact ash vac to thoroughly clean any room and designed for easy and intuitive operation. The 5-meter electric cord, silenced motor and sturdy 4-wheel trolley make it easy to transport and simplify its use even in larger rooms. At the level of structure, the most important pluses of this ash vacuum cleaner are:
The washable filter, designed to easily trap dust and ash without losing its effectiveness over time. Extremely easy to clean, it won't be damaged while washing, and always ensures maximum results even after intensive use;
The fine dust prefilter, which increases the effectiveness of the filter by being able to isolate even the finest ash, thus increasing the collection efficiency of the ash vac;
The pneumatic filter shaker, which promotes cleaning and maintenance, by allowing dust to be removed with the use of a convenient external button;
The flat lance removes ash from the most distant and hidden corners.
The Ashley 1000 Premium Evo is also compatible with several extra accessories that allow customizing the ash vac to suit your daily needs, such as the round brush with stainless steel bristles to remove encrusted dirt that lurks on the walls of stoves and fireplaces.
Set aside your broom and dustpan and make your stove or fireplace shine quickly and effortlessly. With an ash vacuum cleaner, you can say goodbye to dirt and foul odor, keeping your rooms clean and safe at all times, whether at home or in the office.