Hygienic floors with a scrubber dryer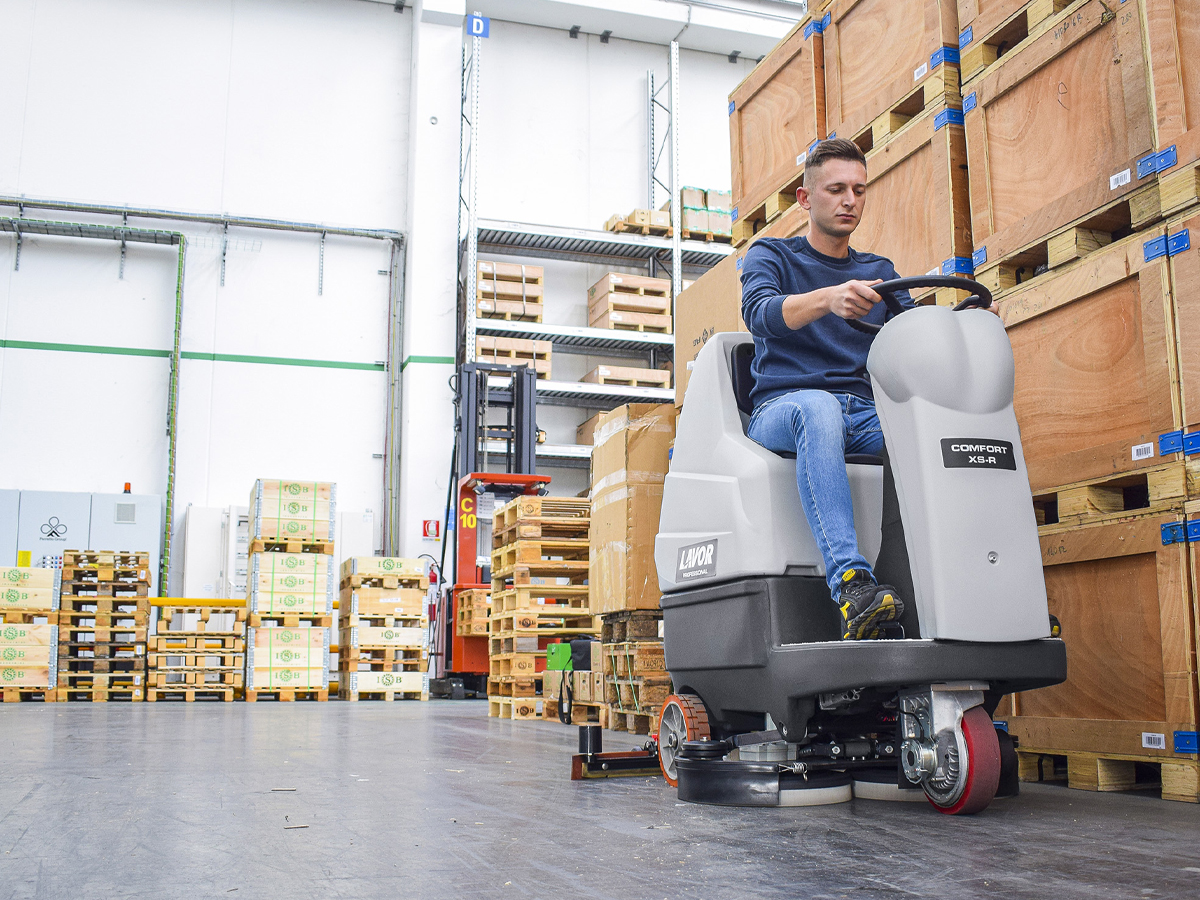 Following the COVID-19 emergency, hygiene and sanitising have become even more relevant terms when talking about cleaning shops, supermarkets and shopping centres. Like handles, doors and switches, floors
are also one of the surfaces where germs and bacteria spread more easily.
However, unlike all those small supports that we touch with our hands, cleaning large areas like supermarket and shopping centre floors requires lots of time, even preventing the public from coming in for ten or twenty minutes. This is why having a floor scrubber dryer is now essential for frequent yet quick and hygienic cleaning inside professional environments.
What is a floor scrubber dryer
As the terms itself says, a floor scrubber dryer is a professional tool for washing and drying indoor floors (except for natural wood, raised and parquet flooring) and outdoor floors, provided they are even surfaces made with non-abrasive materials.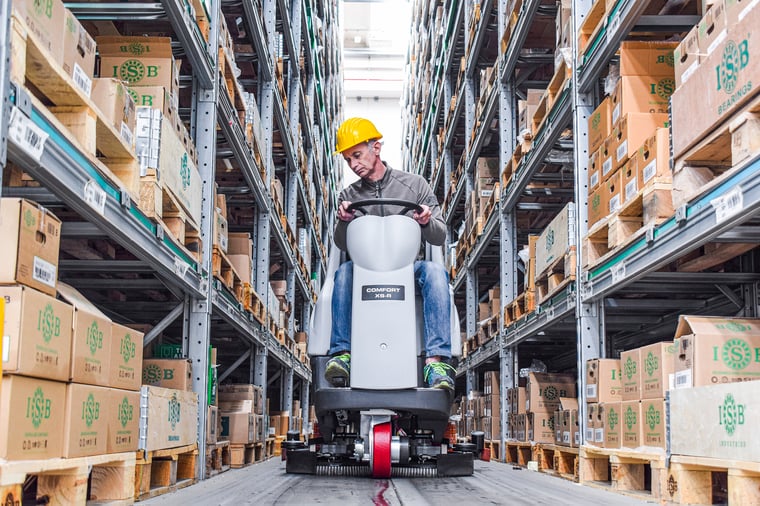 A floor scrubber is perfect for ordinary and frequent cleaning, making the floor instantly dry and hygienic in a single pass. When fitted with the right supports, it can also be used for special cleaning and maintenance.
There are two main models on sale:
Ground operated, where the vehicle is driven by an operator who walks behind it and manoeuvres it with the handle on the back. This model is perfect for corridors, small shops, eating areas, shopping centres and for environments up to 500sqm;
On-board operated, which is quicker and more high-performance, where the operator sits on it in a comfortable seat and manoeuvres it with a steering wheel, so it is perfect for schools, airports, warehouses and any areas up to 12,000sqm.
In terms of their structure, floor scrubber dryers are formed of a scrubber made up of 1 to 3 disc or roller brushes, depending on the type of model. The motor is electric and can be powered by a cable or a battery. This second option is particularly recommended for large areas, where the cable can interrupt the cleaning cycle.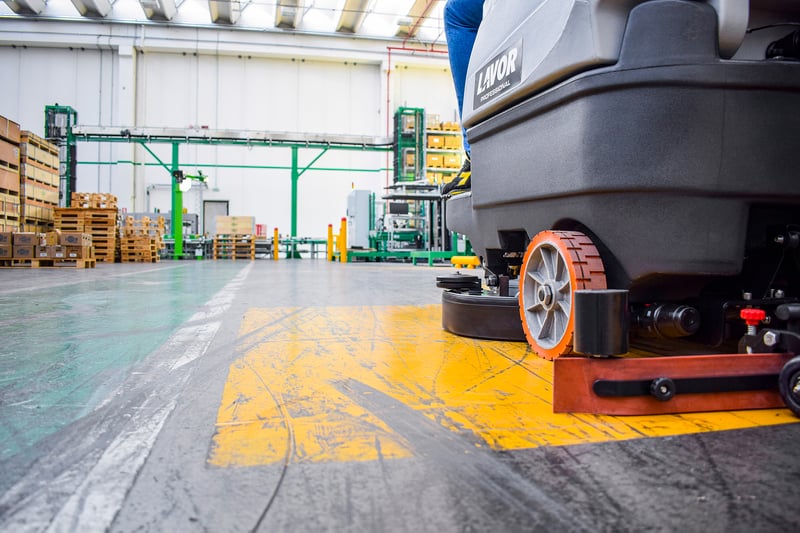 Behind the washing system there is a suction and collection system, which immediately retrieves the dirty water, assisted by a "squeegee" rubber blade. There are two tanks here, one filled with water and detergent to make a solution, used for washing, and the second one filled with the dirty water collected. These two tanks make cleaning even more hygienic: in fact, floors are always only washed with clean water.
Why use a floor scrubber dryer
Using a floor scrubber dryer makes cleaning large surfaces considerably easier, especially if used by customers and the public all throughout the day.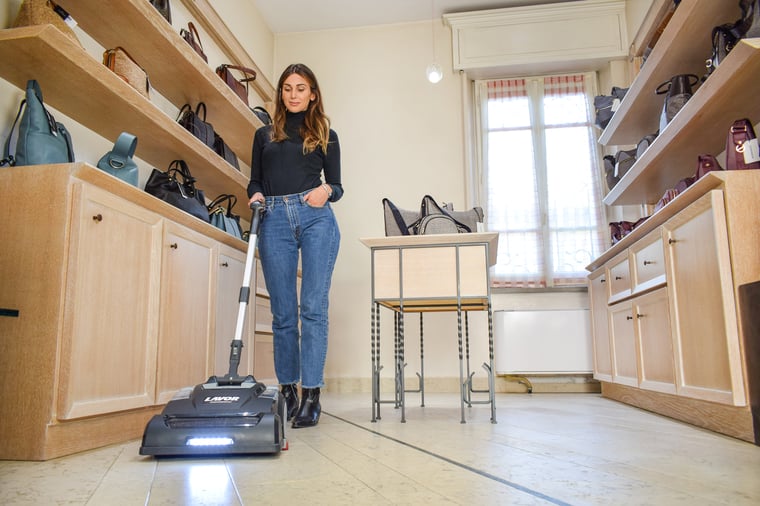 The main benefits of choosing a scrubber dryer are:
Speed of use, thanks to cutting the time normally spent cleaning floors by more than half. In fact, with just one pass you can get the desired result, always keeping the clean floor instantly dry;
An excellent level of safety, also guaranteed with the public and customers there. The instant drying allows it to be used frequently without blocking access to the area or shop. This is particularly important, for example, in shopping centres, supermarkets, canteens, eating areas, spas and wellness centres;
A better level of hygiene, compared with a classic mop. Thanks to these two separate tanks, the water used for cleaning is always free from any germs and bacteria, deeply sanitising any type of surface even in just one pass;
Complete cleaning that does not miss anywhere, even deeply cleaning tiles and grout lines;
Saving water and detergent. In fact, several tests have shown that you need 0.5l of liquid for every 10sqm when washing by hand, but with a floor scrubber 0.05l is enough for the same area;
Wash large surfaces in no time at all, there is no comparison at all with normal cleaning systems with a mop;
The investment is paid back quickly, there are obvious savings in time and effort and even the possibility of getting equipment without having to resort to contracts with specialist cleaning agencies.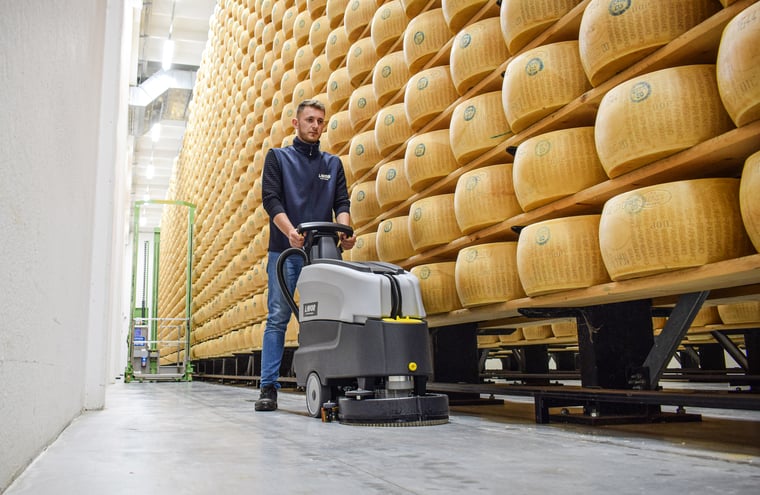 How to choose the right floor scrubber dryer: Dynamic by Lavor
If you are thinking of buying a floor scrubber, the two key things to consider are the size of the area to be cleaned and whether it is best to get an electric motor model with a power cord or a battery-powered model.
When it comes to cleaning small and medium-sized surfaces up to 1000sqm, such as wellness centres, spas, gyms, shops, workshops and medical clinics, Dynamic by Lavor is an excellent solution.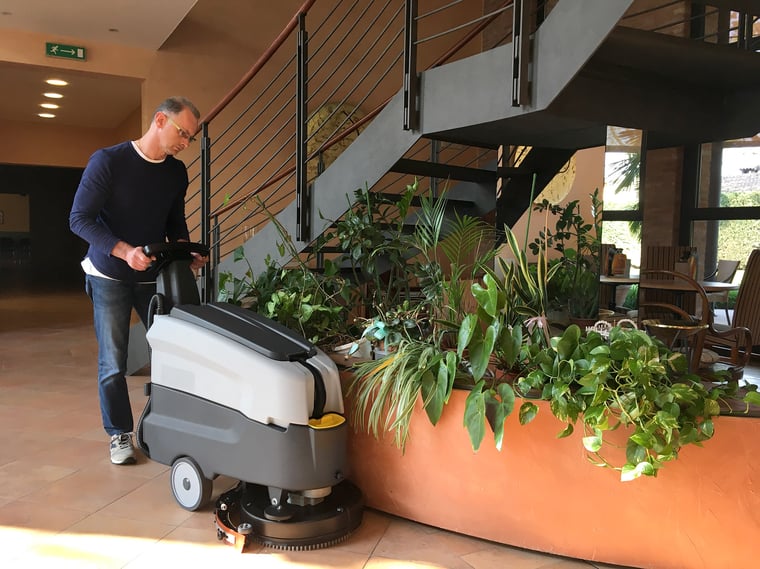 This floor scrubber dryer is compact and easy to use. It is formed of a single central rotating brush, a fast attachment/release system for the brush and delayed automatic shut-down. What's more, Dynamic:
Features an intuitive control panel, with soft-touch controls and a safety system for the operator;
is easy to refill through the tank with an opening on the front;
is very easy to manoeuvre thanks to the adjustable, ergonomic handle;
is easy to move thanks to its extreme manoeuvrability and is perfect in all environments thanks to the non-marking wheels;
lets you adjust the flow of detergent with automatic cut-off;
is also available in a version with rechargeable lithium batteries, which are very high-performance compared with normal batteries.
It makes it easy to clean surfaces in your venue by trusting a professional floor scrubber dryer. It saves time, energy and protects the environment, giving your customers an excellent shopping experience in an environment that is always clean and hygienic.