Cleaning school floors with a scrubber-dryer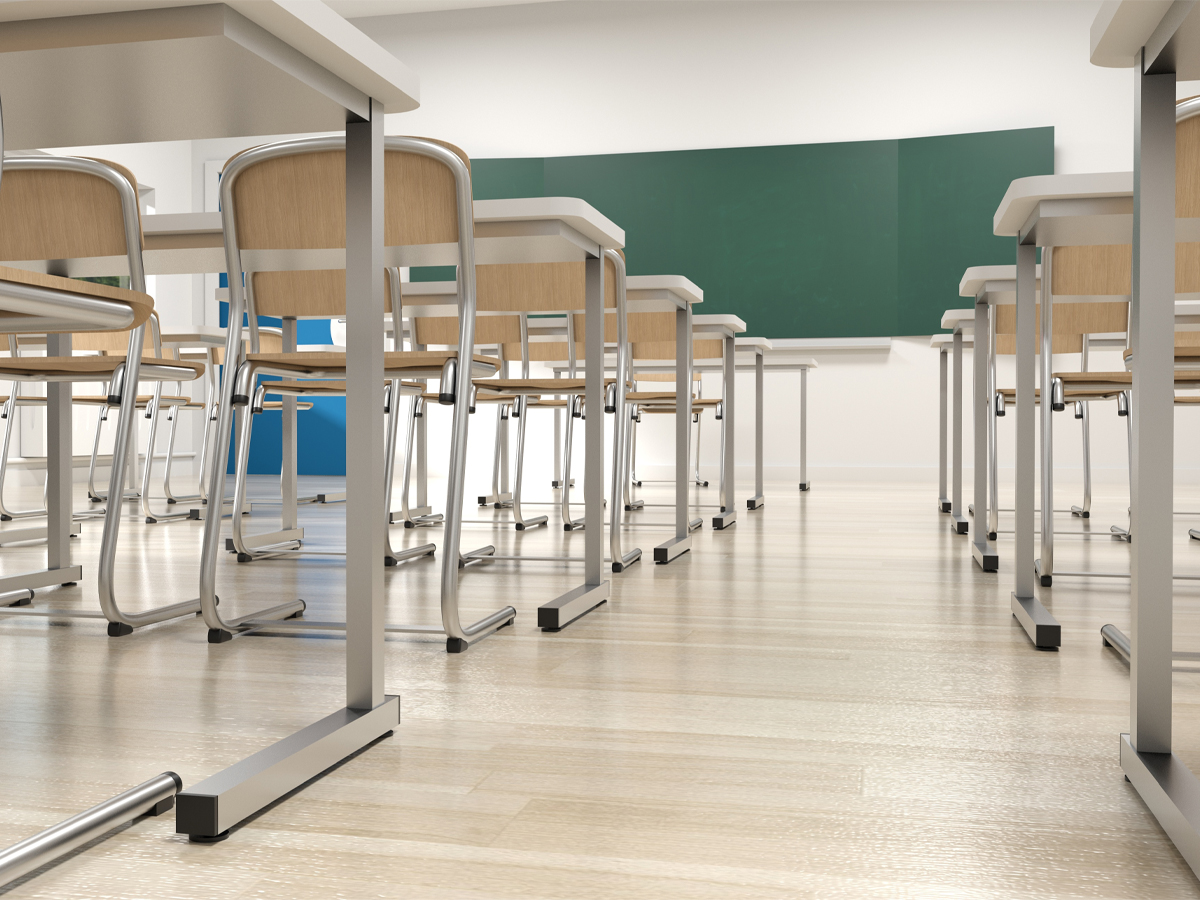 In schools and universities, hundreds of people walk along the hallways every day, enter classrooms, eat lunch in canteens, play sports in gyms or take a break inside cafeterias. In kindergartens, children crawl
from one side of the room to the other, play on the floor and explore by constantly touching all their surroundings.
Within these areas, it's essential to implement good practices of floor care, with the use of professional cleaning machines that simplify the work and allow always achieving excellent results in a short time. To clean school floors and keep them well sanitized at all times, a great solution is to rely on a professional floor scrubber-dryer.
Using scrubber-dryers in schools
The scrubber-dryer is the ideal solution for those looking for a perfect machine for routine, effective, fast and effortless cleaning of any type of floor, such as parquet, resin-bonded, resilient, tiled or carpeted floor. As the name suggests, this product washes the floor, on the one hand, including through the action of detergents and sanitizers, and then collects water and dirt in a few seconds, thus keeping the floor dry as well as perfectly clean at all times. Through the use of detergents and disinfectants, which are automatically spread on the floor within the solution of water and chemical, all kinds of encrustations can be dissolved and the proliferation of germs and bacteria prevented.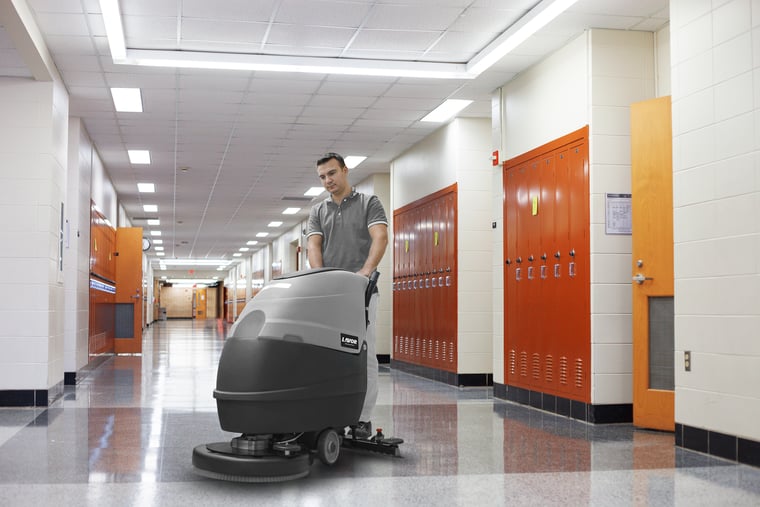 This aspect is very important for school rooms because it provides a safe and clean environment for students and avoids leaving wet and, consequently, slippery floors. In addition, due to its silent operation, it allows school floors, such as hallways, to be cleaned even during school hours without interrupting the normal course of classes.
Scrubber-dryers are divided into two main models:
"walk-behind" floor scrubber-dryers, operated through a handle on the back. This model is perfect for cleaning small rooms in schools, universities and kindergartens, such as classrooms, offices, bathrooms and locker rooms;
"ride-on" floor scrubber-dryers, provided with a seat for the operator and a steering wheel for driving. This floor scrubber-dryer is the ideal solution for cleaning large surfaces, up to 12,000m2, such as warehouses, gymnasiums and lecture halls.
Both solutions offer very high performance that allow for safe cleaning even several times a day, thus ensuring excellent results every time.
School floor scrubber-dryers: all the pluses
Using a scrubber-dryer to clean school floors is a great way to ensure perfect surfaces under all circumstances. In addition to standard daily cleaning, the need for extraordinary cleaning may occur at school. Food or drinks could spill in canteens; a day of heavy rain can cause floors to quickly become covered with slush and dirt. Being able to intervene quickly without blocking access to the hallways or disturbing classes allows school floors to be cleaned as soon as needed, even several times a day, maintaining a clean environment at all times.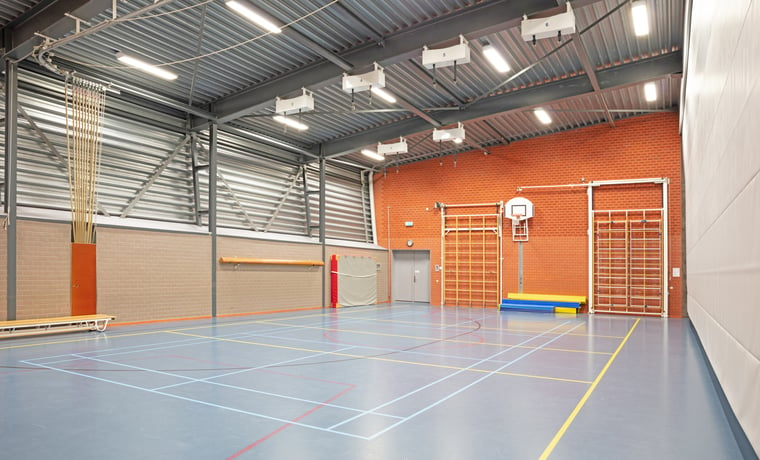 Using a floor scrubber-dryer provides several advantages over traditional cleaning tools, such as:
reduction in cleaning time by more than 50%.
clean-up operation at all times, even with students and professors moving around;
top sanitation compared to bucket and mop, but using much less water and always clean;
no marks and stains, for deep and noticeable cleaning;
safety first by avoiding leaving the floor damp and/or wet with risk of falls.
The floor scrubber-dryer is a great asset for those looking for a professional floor care product, thus reducing time and effort but improving the quality of the work done.
Why cleaning school floors with the Dart scrubber-dryer
Schools, kindergartens and universities consist mainly of classrooms, hallways, offices and meeting rooms, located on different floors. Opting for a compact, maneuverable and easy-to-carry floor scrubber-dryer allows getting the most out of this product, taking advantage of it in any environment, from locker rooms to cafeterias.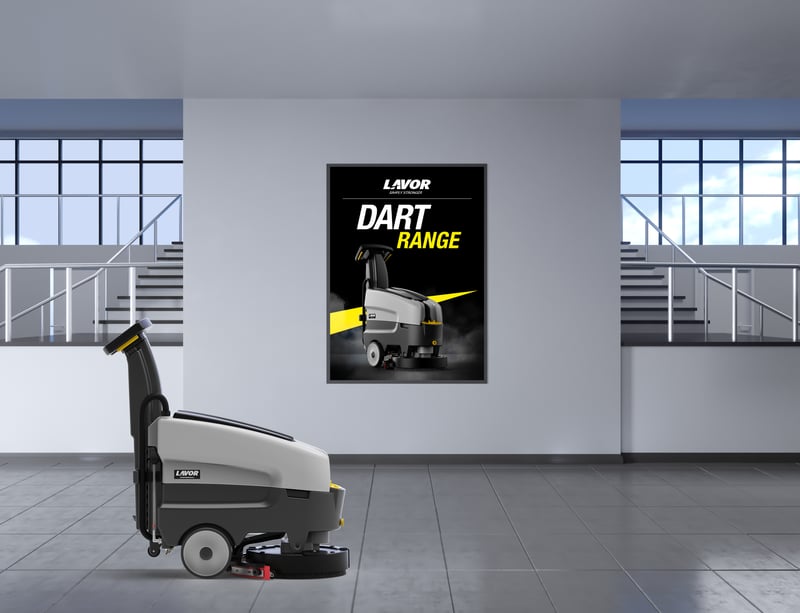 Dart is an excellent floor scrubber-dryer, ideal for cleaning small rooms and with very high performance; it's a highly intuitive walk-behind model and excellent on all types of surfaces. The main pluses of this floor scrubber-dryer are:
simplified access to the tank, which can be filled easily thanks to the large opening at the front;
intuitive control panel, mounted on the ergonomic handle and provided with soft touch controls and operator safety system, with eco-friendly mode;
quick brush release for quick and easy use and maintenance;
compact dimensions promoting access to any elevators and easy work on multiple floors.
Thanks to Dart it will be possible to keep high levels of cleanliness and hygiene in any room, by cleaning quickly and effortlessly, even several times a day. A great solution for any type of school environment to provide children, youth and school staff with a clean and safe place at all times.