Always healthy and clean environments with the professional vacuum cleaner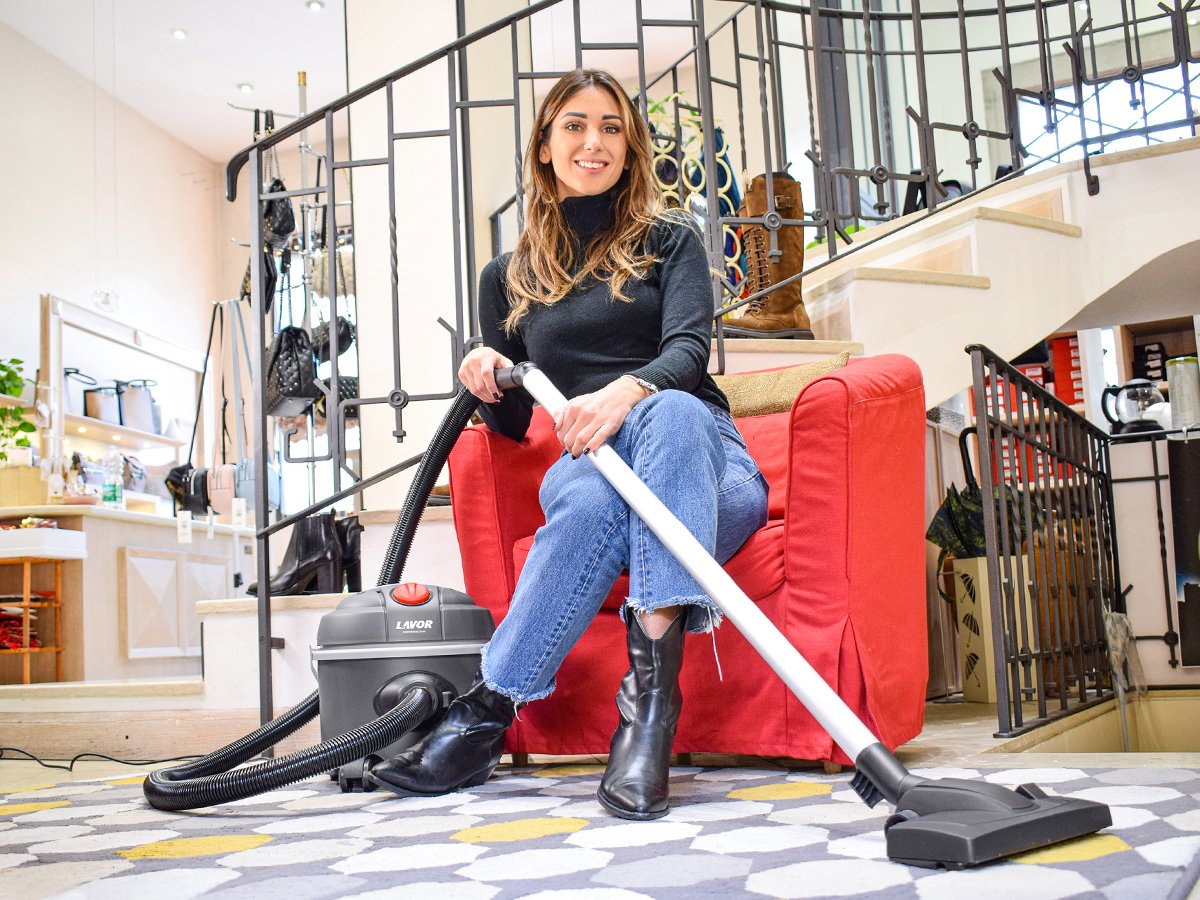 To work within a sustainable environment, it is important to spend time cleaning and sanitising the spaces. Within the workplace, however, taking the time to clean, wash, sweep and vacuum dust and dirt is not
always easy. Opting for professional solutions that make this activity simple and light is a good way to optimise time and resources, while still obtaining an excellent result.
For industries, offices, supermarkets, schools, gyms, car washes, factories, construction sites, hotels, bars and restaurants, the ideal solution for thorough and effortless cleaning is to choose a professional vacuum cleaner. With this tool it is in fact possible to remove debris, dust and soil originating from the outside in a short space of time, thus obtaining a healthy and well-kept workplace. Here is everything you need to know to choose the perfect vacuum cleaner for your professional environment.
How a vacuum cleaner works
The vacuum cleaner is a professional tool that easily removes dry residues and, in the case of wet/dry vacuum cleaners, even wet or liquid residues. Inside its structure, an air depression is generated, which suctions in the various materials through a flexible tube with nozzle. Moving it, the operator directs the suction tube towards any desired direction, thus reaching every point, even the most hidden ones.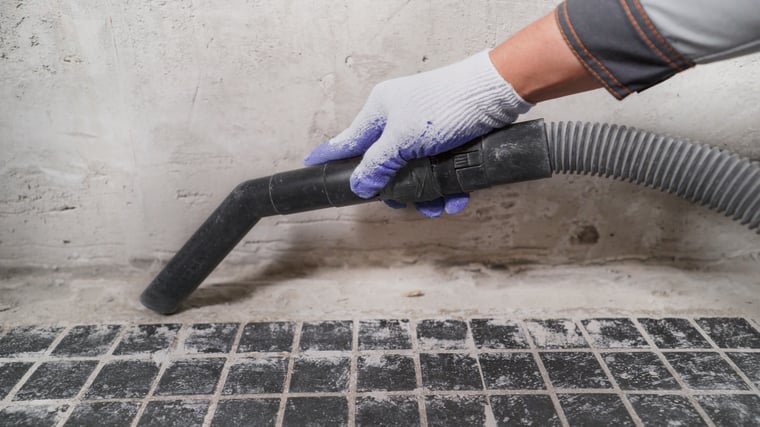 Each vacuum cleaner generally consists of four groups:
The cylinder head, where one or more electric motors are located. These supply the turbines which, by rotating, generate the vacuum effect necessary to suction;
The filter system, consisting of various types of filters, such as bag, fabric, HEPA or cartridge, which separate dry dust from the air. The latter, in fact, once cleaned is re-emitted into the environment;
The collection container, where the suctioned material is collected;
The suction hose, of different lengths, materials and levels of flexibility. It can be equipped with nozzles and brushes of various sizes, according to the purpose of use. The number and type of accessories (nozzles or brushes) may vary according to the models.
In addition to the classic vacuum cleaner, there is a liquid vacuum version, which has a number of structural variants:
In the head there is a system (float) that blocks the suction if the tank is "too full" thus preventing the water from coming into contact with the motor and, consequently, with the electric current that powers the motor;
There is no filter system as the air is separated from liquids by gravity: the water will be positioned in the lower part of the collection container called the tank.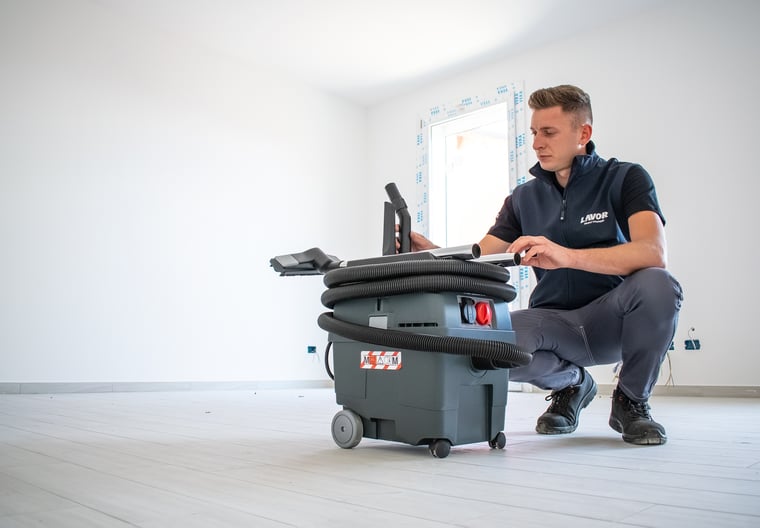 Vacuum cleaners can be used in various sectors
In addition to home environments, offices, schools, a vacuum cleaner can be used in many sectors, such as:
vacuum cleaner for car washes, perfect for cleaning carpets and car interiors;
vacuum cleaners for rugs and carpets or sofas and upholstery, commonly known as carpet cleaners, these are solutions designed for fast and thorough cleaning of these types of fabrics: they suction up the dust and wash surfaces with the function of injecting a solution of water and detergent and the extraction of water and dirt. Ideal for environments such as hotels, while also acting thoroughly with the use of a detergent, it does not leave the carpet damp, immediately leaving it ready to welcome guests. Also ideal for car washes to thoroughly clean car seats or mats;
vacuum cleaners for construction sites, essential to maintain a healthy environment for workers. Here, in fact, it is common for various types of dust to be present in the air. To prevent it from being inhaled and causing health issues, it is important to clean frequently with powerful products. In addition, there are models for the suction of processing water and of sources of pollution and contamination of the areas around the construction site;
Metalworking vacuum cleaner, in these cases also it is important to remove metal shavings and all those substances from the air that could be harmful to the worker, also supporting the maintenance of the tools used;
Vacuum cleaner for carpentry and body workshops, where this tool is used to keep the air healthy and to ensure a safe environment for the worker.
Within large rooms it is possible to combine the use of a vacuum cleaner with a professional sweeper, which is used to remove even large types of debris. An excellent model for industrial use, for airports, shopping centres, warehouses, logistics and for very large environments is the SWL R1000, a professional "ride-on" sweeper, equipped with a central brush and two side ones, which facilitates cleaning while always guaranteeing an excellent result.
Professional vacuum cleaner: which one to choose?
The choice of a vacuum cleaner starts from the purpose of use, the type of environment, the size of the area, the power required and the frequency of use. For a small room it is important to choose a compact and manageable model; for large environments it is necessary to opt for products with a particularly large tankin order to avoid having to slow down the work to empty it frequently; for hotels and meeting rooms it is important to choose vacuum cleaners with a good filtering system and a low level of silence to avoid overly disturbing the occupants.
Whatever your needs, it is essential to evaluate all these options in order to choose the model that best suits your environment, always obtaining the best results from this professional cleaning tool.
SILENT: the perfect vacuum cleaner for your office
For the cleaning of offices, hospitals, schools and environments with small areas it is essential to choose a compact but efficient vacuum cleaner, which guarantees dexterity and deep cleaning. An excellent compact but high-powered vacuum cleaner is the SILENT. This model includes various accessories, such as 2m flex hose, 7.5m electric cable, aluminium pipes, nozzles, brushes and cloth filter.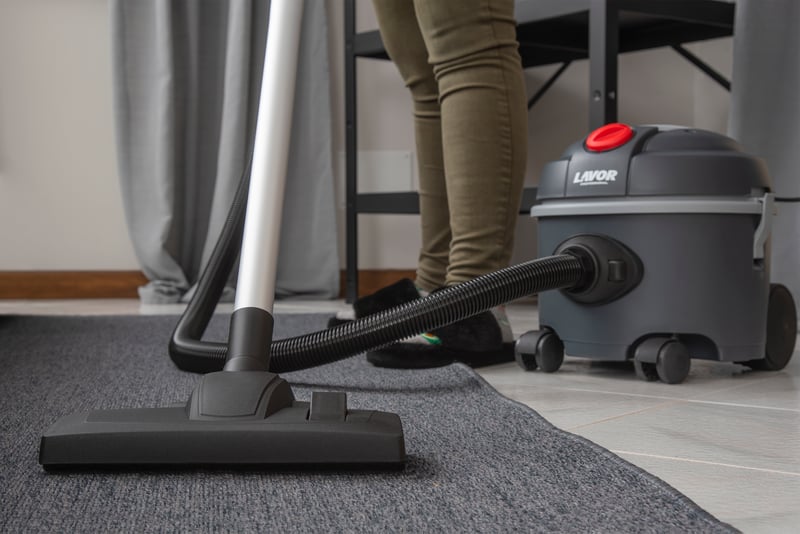 The main advantages of this vacuum cleaner include:
Small size and compactness: The Silent can be transported anywhere and stored without problems even in small spaces;
High efficiency silenced motor which guarantees high performance and low consumption, offering a cleaning solution with little impact on the environment and on bills;
Front pivoting wheels and large rear diameter wheels that allow the vacuum cleaner to follow the user in any space.
WINDY 378 PF: for easy suctioning in large areas
If you are looking for a product to frequently extract in large or industrial areas, the WINDY 378 PF is the one for you. Given its characteristics such as the 78-litre plastic tank, the 2.5 m flex hose, the 7.5 m of electric cable, chromed steel pipes, nozzles, brushes, non-marking wheels and cloth filter, it is the ideal solution for light industrial type use such as in workshops, craft workshops and car washes.
Furthermore, the Windy 378 PF is equipped with an accessory for liquids and an emptying system for liquids, also optimally performing the role of wet vacuum cleaner.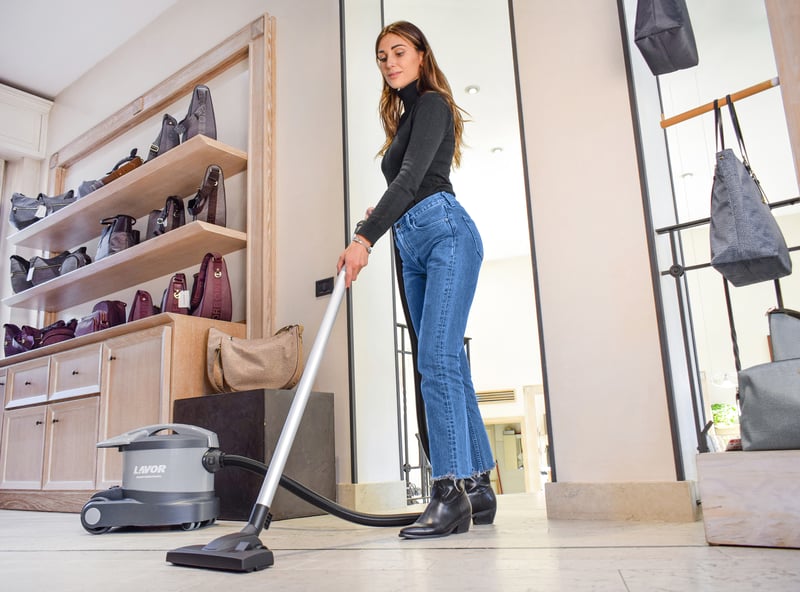 Te main advantages of the WINDY 378 PF include:
The 3 motors with by-pass cooling, which controls the power, increasing it progressively according to the required performance;
The high efficiency motors, which ensure low consumption while maintaining high performance. This feature makes Windy 378 PF an excellent eco-friendly solution;
The filter shaker with reverse flow, which is used to clean the filter without turning off the product, thus further optimising the times of use and simplifying maintenance.
For your work environment, use a professional vacuum cleaner. Enhance the way you use your office or workshop by maintaining a clean and healthy space with minimal investment in terms of time and effort.